Increased time spent at home comes with its own sort of challenges, but it also presents exciting opportunities in the kitchen. While spending more time in the kitchen this spring may not have been your plan, you can make it easy and yummy, whether you're having pizza night, perfecting your brunch game, or getting in touch with your inner baker. This is where pears come in! Besides being packed with 6 grams of fiber and only 100 calories (per medium-sized pear), not to mention containing vitamin C and antioxidants, pears are wonderfully versatile as an ingredient. There's a reason why chefs love working with pears, and it has to do with the sweet deliciousness they bring to an endless array of recipes. For the home cook, there are tons of flavorful, comforting and easy-to-make recipes that are sure to keep you, your family and even your roommates happy. We've selected 10 of our absolute favorite pear recipes that are simple and quick to prepare, and are sure to result in big smiles and full bellies. Many of these also use pantry staples!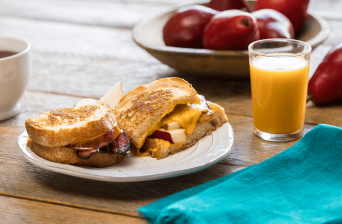 Breakfast Pear and Bacon Grilled Cheese Sandwich
This is a hearty, perfect breakfast sandwich for families on the go. Wrap the sandwich in foil and send it on the school bus as your children are racing out the door. It even works great as a quick dinner time meal with a warm bowl of soup. Cook the bacon in the microwave to save time and clean-up.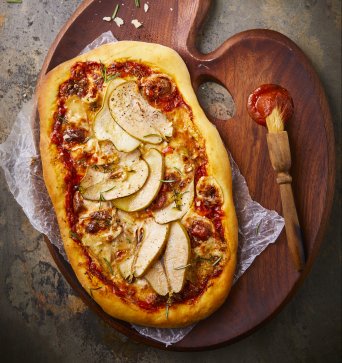 Pear Pizza with Brie Cheese and Rosemary
There are so many combinations when it comes to pear pizza. Instead of traditional mozzarella, this recipe uses creamy brie cheese and fresh rosemary to contrast with sweet and juicy Anjou pears. Try tons of other pear pizza recipes here!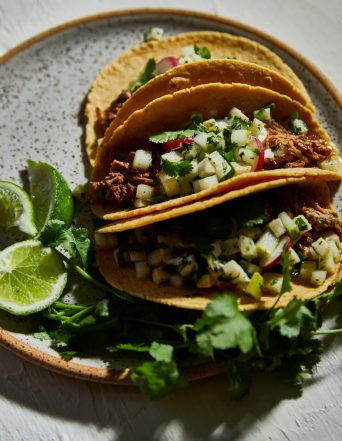 Pulled Pork and Pear Tacos with Pear Pico de Gallo
Time for a taco party! In this festive recipe, pears appear in two ways: braised with pork shoulder to create depth and sweetness for a juicy, shredded taco filling, and also mixed into a zesty pear and jicama pico de gallo for topping. There will be plenty of the flavorful slow-cooked meat to feed a crowd, and any leftovers can be frozen for quick taco making for future weeknight dinners. Serve with margaritas and chips and salsa to round out the menu.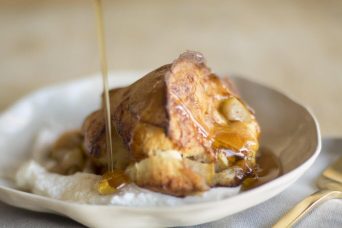 Here is an elegant and delicious breakfast recipe that is incredibly easy to make. The simple batter is whipped up in the blender and poured into a muffin tin filled with warm, cinnamon-spiced pears. Just 25 minutes in the oven and the popovers become light, fluffy, and irresistibly golden brown. Serve them immediately after taking them out of the oven for a beautiful display!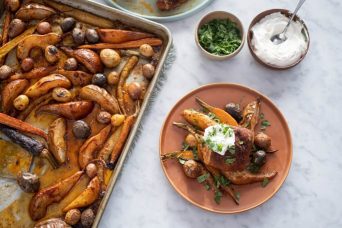 Smoky Paprika Sheet-Pan Chicken with Pears, Potatoes, And Carrots
Sheet-pan suppers are a weeknight game changer for busy families. Not only is dinner cooked and served from one pan making cleanup a breeze, this technique allows for minimal effort in the preparation. It's also the perfect opportunity to combine pears with those loose vegetables sitting in your fridge. In this recipe, crisper pear varieties—think Bosc or underripe Green and Red Anjou or Concorde, Forelle, or Seckel—become lusciously soft as they, along with carrots and potatoes, infuse with smoky spices and absorb the flavorful drippings from chicken thighs roasting atop. As they roast, the chicken skin becomes crisp, and the pears release fragrant juices that mix with the spices and olive oil to create a delicious sauce right in the pan. Don't skip the sour cream and cilantro finish, as they make this dish sing.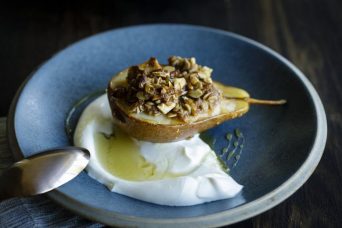 Roasted Pear Crumble with Honey Yogurt
Whether served for breakfast or even dessert, this simple dish balances the warm sweetness of roasted pears and honey with creamy yogurt. It can be eaten any time of year, but it feels especially appropriate during autumn and winter when the flavors complement toasty days spent curled up on the couch or celebrating the holidays with loved ones.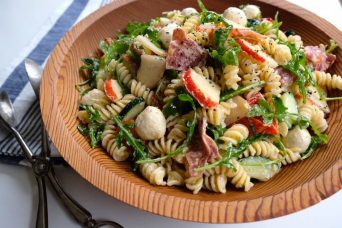 This portable pear recipe adds a sweet twist to the perennial favorite: pasta salad. With a flavor-packed combination of just-ripe USA Pears complemented by salty salami, tart pickled peppers, fresh mozzarella, and crunchy cucumbers, it's sure to surpass any pre-made offering you'd find at the deli counter. Plus, a lightened-up version of the classic creamy dressing, substituting Greek yogurt for mayonnaise, makes for a healthier summer feast.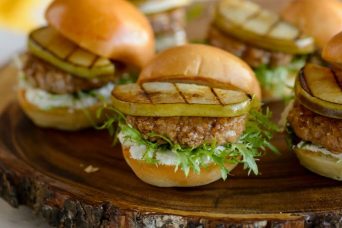 Turkey Burger and Pear Sliders
Indulge in your burger craving without feeling guilty! Grilled fresh sweet pear and creamy Chèvre goat cheese help satisfy the foodie in all of us. These mini gourmet turkey and pear burgers will soon become a grilling favorite.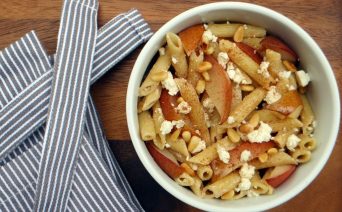 Roasted Pear Pasta with Cinnamon and Feta
Here is a wonderful, warming pasta dish full of unique flavors. Roasted pears, cinnamon, feta cheese, and toasted pine nuts make for a surprisingly delicious combination, and this meal comes together in a snap. You'll fill your kitchen with the aroma of sweet, roasting pears and spicy cinnamon before you get your first bite of this creamy pasta. Enjoy this dish as a meal on its own, or pair it with a simple green salad dressed with Pear and Roasted Carrot Vinaigrette.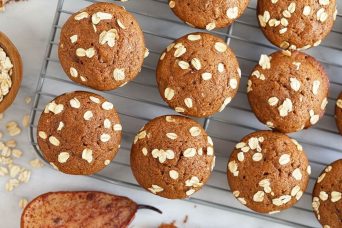 Naturally sweetened with pear puree and maple syrup, these healthy cinnamon pear muffins are the perfect snack or nutrition-packed breakfast. They're made with 4 whole large Bosc pears, 100% white whole wheat flour, and ground cinnamon.