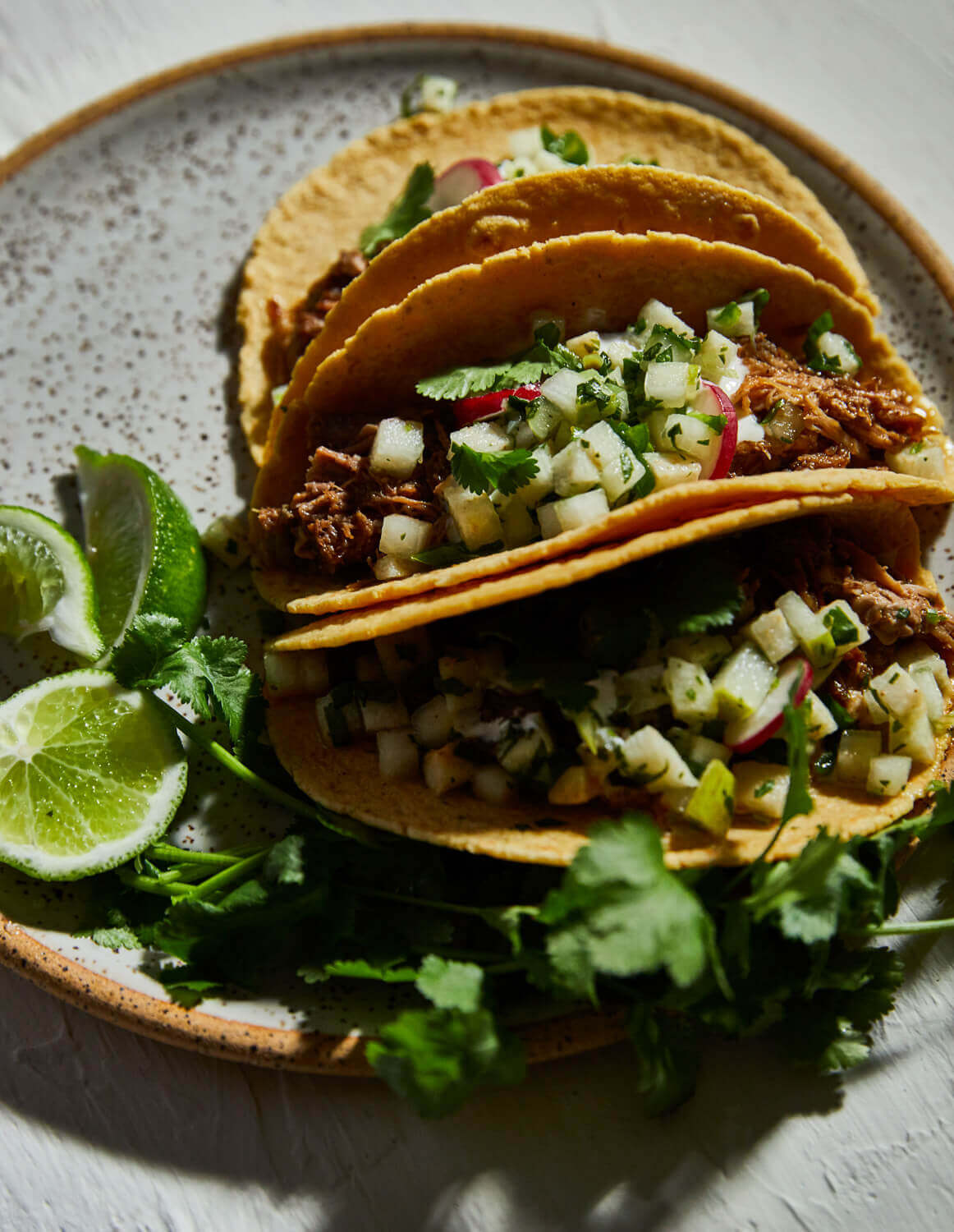 Pulled Pork and Pear Tacos with Pear Pico de Gallo
Time for a taco party! In this festive recipe, pears appear in two ways: braised with pork shoulder to create depth and sweetness for a juicy, shredded taco filling, and also mixed into a zesty pear and jicama pico de gallo for topping. There will be plenty of the flavorful slow-cooked meat to feed a crowd, and any leftovers can be frozen for quick taco making for future weeknight dinners. Serve with margaritas and chips and salsa to round out the menu.
INGREDIENTS
Pulled Pork
3 1/2 pounds pork shoulder (pork butt)
1 tablespoon kosher salt
1 tablespoon chile powder
2 teaspoons ground cumin
1/2 teaspoon freshly ground pepper
1 tablespoon extra-virgin olive oil
2 large ripe USA Pears, peeled and chopped
1 small white onion, finely chopped
1/4 cup chopped fresh cilantro leaves and stems
4 canned chipotle chiles with a little extra sauce
2 cloves garlic, minced
Juice of 1 lime
Pear Pico de Gallo
1 1/2 cups finely diced USA Green Bartlett Pear
1 cup finely diced jicama
4 finely minced green onions
1/4 cup minced cilantro
2 minced jalapeños, or to taste
Juice of 1 lime
Kosher salt, to taste
Corn or flour tortillas, for serving
1 avocado, sliced
Sour cream, for serving
DIRECTIONS
To make the pulled pork: Cut the pork into 4 large chunks and season them with salt, chile powder, cumin, and pepper, coating all sides. Put the pork in a slow cooker and add the pears, onion, cilantro, chipotle chiles, and garlic, and squeeze the lime juice over everything. Cover and cook on until the meat easily shreds, 8 to 10 hours on low, or 4 to 6 hours on high. (This can also be cooked in an Instant Pot at high pressure for 75 minutes, following manufacturer's instructions.) Shred the meat using two forks right in the slow cooker, discarding any fatty pieces. Keep warm.
To make the pico de gallo: Mix all ingredients in a small bowl up to 2 hours before serving.
Serve the pulled pork in warmed tortillas, topped with avocado, sour cream, and the pico de gallo, as desired.
(Leftover meat will keep in the refrigerator for up to 4 days, or can be frozen for up to 6 months.)
Photography: George Barberis (@georgebarberis)
Recipe and Styling: Andrea Slonecker (@andreaslonecker)
NUTRITION
Serving Size: 1 Taco (178g)
Calories: 410
Carbohydrate: 27g
Dietary Fiber: 4g
Protein: 23g