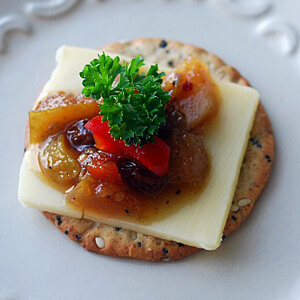 "This recipe is remarkably simple to make. Once you prep your ingredients, it all goes into the preserving pan at the same time, and happily cooks away, without needing too much supervision. Chutneys can easily be made spicy, but even the non-spicy version is packed with so many complex flavors you'll wonder why you didn't make chutney sooner!" says recipe developer Brook Hurst.
INGREDIENTS
6 USA Pears, chopped (about 3 pounds whole pears), about 9 ½ cups chopped
1 Granny Smith apple, cored and chopped, about 1 ½ cups chopped
1 onion, chopped, about 1 cup
1 red bell pepper, seeded and chopped
Zest and juice of one lemon
1 cup raisins
½ cup crystallized ginger, chopped
3 cups brown sugar
1 ½ cups apple cider vinegar
1 heaping tablespoon mustard seeds
2 teaspoons sea salt
1 teaspoon ground nutmeg
½ teaspoon ground cloves
1–3 teaspoons red chili flakes, optional
DIRECTIONS
Cook's Note: Chop ingredients by hand. If you use a food processor, the ingredients will probably end up too small, which results in a finished product that resembles an unappealing mush. You want to be able to recognize the ingredients in your chutney.
Combine all ingredients in a large, heavy-bottomed, non-reactive pan. Cook over medium heat, stirring occasionally, for about one hour. You want it to simmer constantly.
Ladle into clean jars, run a table knife around the edges to remove any air bubbles, and then wipe rims spotlessly clean. Place a warm seal on the jar, and then screw on a band finger-tight.
Process in a boiling water bath 10 minutes, turn off heat, and let sit for 5 more minutes. Remove the jars from the kettle and let them sit in a draft-free place overnight. Store any jars that didn't seal in the fridge for up to 6 months, and put the rest in a cool dark place for up to one year.
yield: Makes 8 half pints
NUTRITION
Serving Size: 1 TBSP
Calories: 35
Carbohydrate: 8g
Dietary Fiber: 0g
Protein: 0g
---
3 Comments » for Pear Apple Chutney