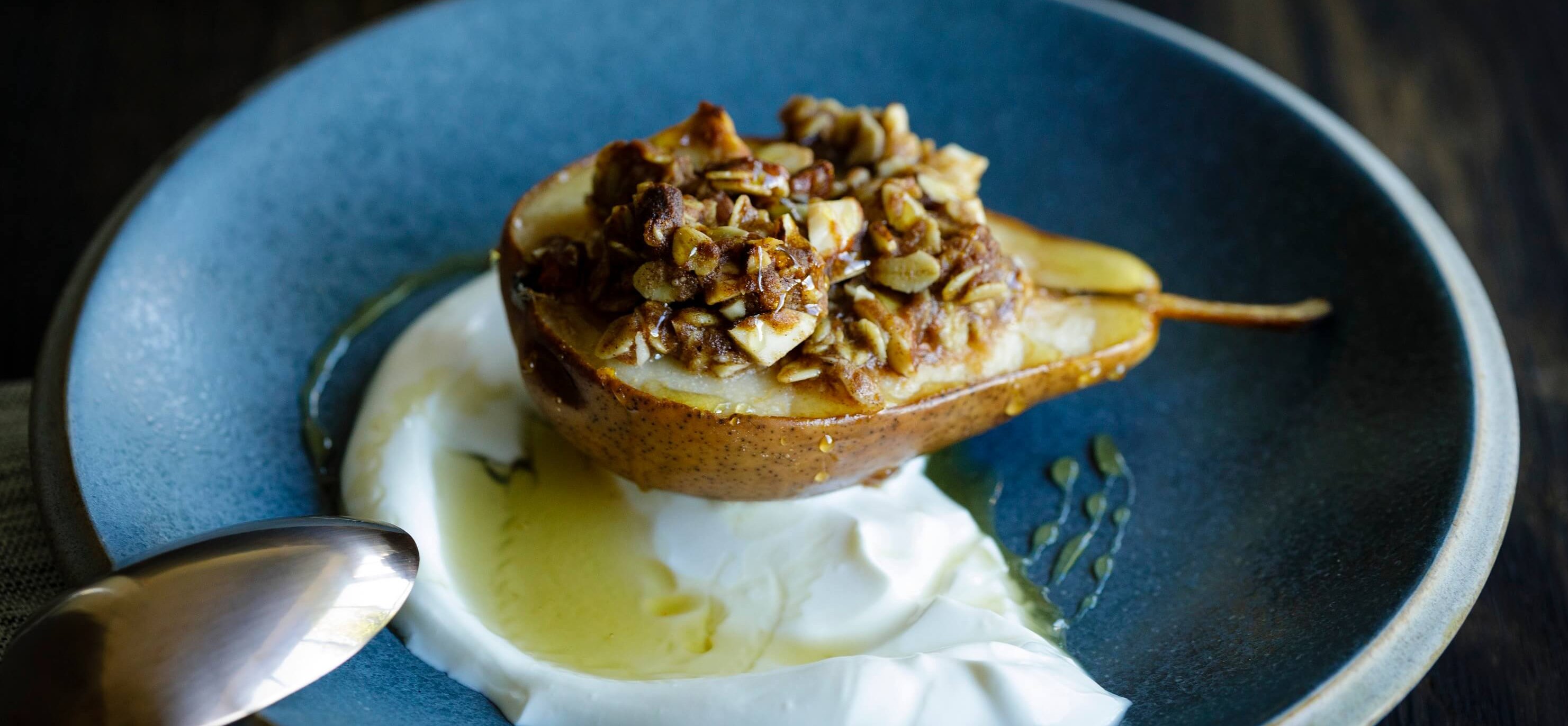 Roasted Pear Crumble with Honey Yogurt
Whether served for breakfast or even dessert, this simple dish balances the warm sweetness of roasted pears and honey with creamy yogurt. It can be eaten any time of year, but it feels especially appropriate during autumn and winter when the flavors complement toasty days spent curled up on the couch or celebrating the holidays with loved ones.
INGREDIENTS
1/4 cup rolled oats
1/4 cup coarsely chopped raw almonds
2 tablespoons whole-wheat (or white) all-purpose flour
1/2 teaspoon ground cinnamon
Pinch of kosher salt
3 tablespoons honey (divided)
2 tablespoons plus 1 teaspoon extra-virgin olive oil (divided)
2 firm but ripe USA Anjou pears, halved and cored
2/3 cup yogurt
DIRECTIONS
1. Position a rack in the middle of the oven and preheat to 375°F.
2. In a medium bowl, combine the oats, almonds, flour, cinnamon, and a pinch of salt. Drizzle in 2 tablespoons of both the honey and olive oil. Stir to combine until everything looks wet and clumpy.
4. Arrange the pears with cut sides up in a square baking dish. Drizzle the pears with the remaining 1 teaspoon of olive oil, and rub it in to coat all sides. Loosely top each pear with some of the crumble mixture, dividing it evenly.
5. Bake until the pears are tender when pierced with a fork and the topping is brown and crisp, 30 to 35 minutes.
6. In a small bowl, stir the remaining 1 tablespoon honey into the yogurt. Spoon the yogurt into 4 shallow bowls, and place the warm pears on top.
NUTRITION
---
2 Comments » for Roasted Pear Crumble with Honey Yogurt