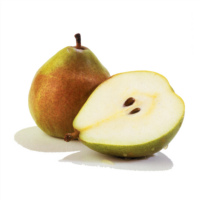 Comice pears, with their subtle, very sweet and elusive flavor, are served best when accompanied by most any kind of cheese, particularly soft, ripening cheeses. A small ball of cheese rolled in a layer of nuts is placed in the core of halved Comice pears to make a delicious and elegant presentation. Serve with sherry or a light white wine.
INGREDIENTS
2 tablespoons lemon juice
2 tablespoons water
4 firm, ripe Comice USA Pears
4 ounces soft cream cheese
1 ounce crumbled blue cheese
½ cup finely ground or diced nuts (walnuts, hazelnuts, or pecans)
Fresh cheeses, an assortment of Brie, blue, Camembert, Gouda, Gorgonzola, Cheddar, etc.
DIRECTIONS
Halve and core pears. Brush surface lightly with diluted lemon juice to slow browning. Combine cream cheese and blue cheese until well mixed. Form into 1-inch balls and roll in chopped nuts. Place cheese ball into center cavity of each Comice half. Serve with additional cheese selection.
NUTRITION
Serving Size: 1 Half Pear (125)
Calories: 160
Carbohydrate: 2g
Dietary Fiber: 1g
Protein: 5g