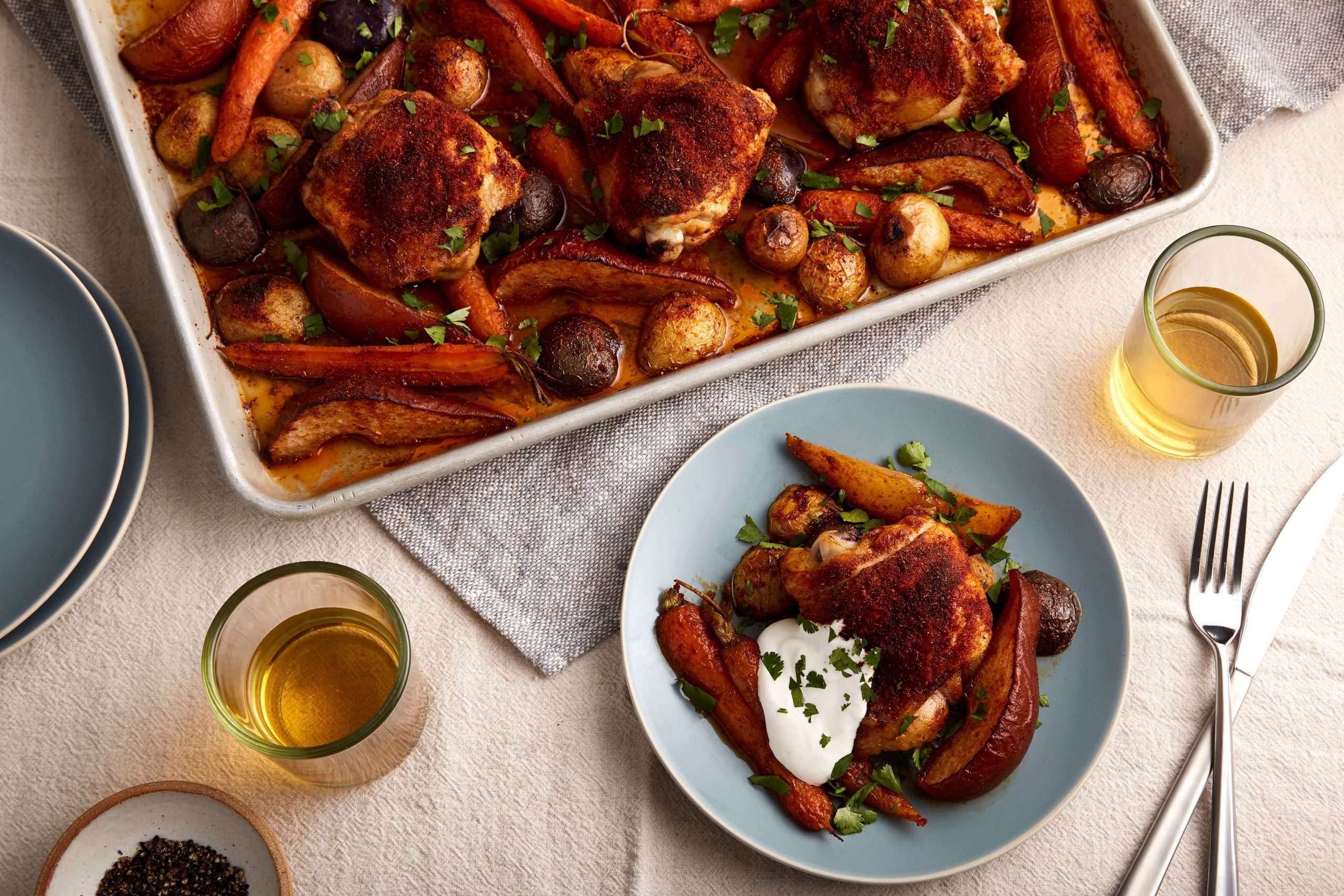 Smoky Paprika Sheet-Pan Chicken with Pears, Potatoes, And Carrots
Sheet-pan suppers are a weeknight game changer for busy families. Not only is dinner cooked and served from one pan making cleanup a breeze, this technique allows for minimal effort in the preparation. It's also the perfect opportunity to combine pears with those loose vegetables sitting in your fridge. In this recipe, crisper pear varieties—think Bosc or underripe Green and Red Anjou or Concorde, Forelle, or Seckel—become lusciously soft as they, along with carrots and potatoes, infuse with smoky spices and absorb the flavorful drippings from chicken thighs roasting atop. As they roast, the chicken skin becomes crisp, and the pears release fragrant juices that mix with the spices and olive oil to create a delicious sauce right in the pan. Don't skip the sour cream and cilantro finish, as they make this dish sing.
INGREDIENTS
1 tablespoon smoked paprika
1 tablespoon ground cumin
2 teaspoons garlic powder
2 teaspoons kosher salt
1/2 teaspoon freshly ground black pepper
1 pound ripe or slightly underripe Green Anjou, Red Anjou or Bosc pears
1 pound small potatoes in a variety of colors, halved
12 ounces baby carrots, tops trimmed and halved, or larger carrots, peeled, halved, and cut into 3-inch segments
2 tablespoons extra-virgin olive oil
6 bone-in, skin-on chicken thighs, patted dry with paper towels
1/4 cup coarsely chopped fresh cilantro
Sour cream, for serving
DIRECTIONS
Preheat the oven to 425˚F with a rack positioned in the bottom third.
In a small bowl, mix the paprika, cumin, garlic powder, salt, and pepper to combine. Halve and core the pears. If working with Bosc or Concorde pears, cut them into 6 wedges; cut Forelles into quarters; and halve seckels.
On a 13-by-18-inch rimmed baking sheet, combine the pear wedges, potatoes, and carrots. Drizzle with 1 tablespoon of the olive oil, sprinkle with about one-third of the spice mixture, and toss to coat everything evenly. Spread the pears and vegetables out in an even layer. Rub the chicken thighs with the remaining 1 tablespoons of oil. Sprinkle both sides with the remaining spice mixture to coat well. Place the chicken thighs over the pears and vegetables, spacing them out evenly.
Place the sheet pan in the bottom third of the oven and roast until the internal temperature of the chicken registers between 170 to 175˚F on an instant-read thermometer, 40 to 45 minutes.
Transfer the chicken thighs to a platter and tent with foil to keep warm. Switch the oven to broil, and place the sheet pan on a rack positioned about 6-inch below the heating element. Broil the pears and vegetables until lightly browned in spots and the juices on the pan begin to caramelize, about 5 minutes. Turn them as needed to brown evenly and prevent scorching.
Divide the pears and vegetables among plates, along with some of the accumulated juices on the pan. Top with the chicken. Sprinkle with the cilantro and a dollop of sour cream, and serve.
NUTRITION
Serving Size: 11 oz
Calories: 400
Carbohydrate: 35g
Dietary Fiber: 6g
Protein: 23g
---
2 Comments » for Smoky Paprika Sheet-Pan Chicken with Pears, Potatoes, And Carrots