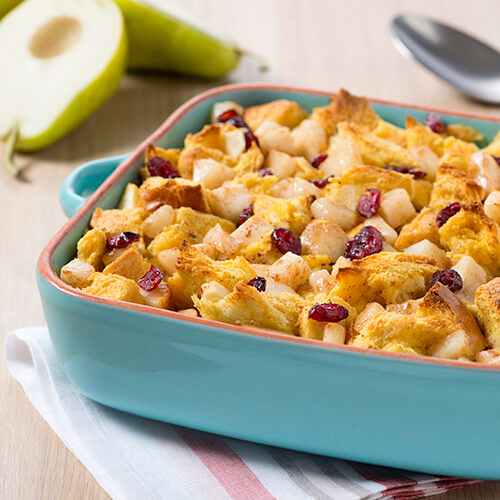 Pear Cranberry Bread Pudding
Sweet pears bake until tender in this rich bread pudding studded with dried cranberries. Serve warm or at room temperature.
INGREDIENTS
5 cups brioche, Hawaiian bread, or sweet rolls, torn into small pieces
2 ripe Bartlett USA Pears, peeled, cored and diced
⅓ cup dried cranberries
3 eggs
1 ½ cups whole milk
1 cup whipping cream or heavy cream
½ cup sugar
1 teaspoon vanilla extract
½ teaspoon cinnamon
¼ teaspoon nutmeg
Pinch of salt
DIRECTIONS
Coat the inside of a 2-quart (or larger) baking dish with cooking spray or butter and arrange the bread to cover the bottom of the dish. Layer on the pears and cranberries and top with remaining bread.
In a large mixing bowl, beat the eggs and then blend in the milk, cream, sugar, vanilla, cinnamon, nutmeg, and salt using a whisk. Pour the mixture over the bread and fruit. Cover the dish and refrigerate for at least two hours or overnight to fully absorb the liquid.
Preheat oven to 325 degrees. Bake bread pudding for one hour, or until the custard is set. Let stand and cool for at least 10 minutes before serving.
NUTRITION
Serving Size: 1 Slice
Calories: 410
Carbohydrate: 57g
Dietary Fiber: 8g
Protein: 7g
---
1 Comment » for Pear Cranberry Bread Pudding