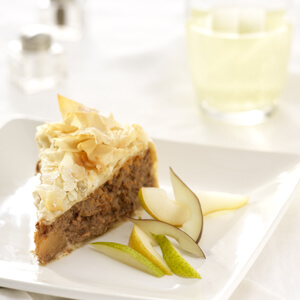 Braised Bartlett Pear and Chicken Pastilla
This recipe was developed by Mark Porcaro of Top of the Hub Restaurant in Boston.
INGREDIENTS
1 tablespoon coriander seeds (or 1 teaspoon ground coriander)
1 teaspoon cumin seeds (or ¼ teaspoon ground cumin)
2 tablespoons cinnamon
1 tablespoon grated fresh ginger
1 teaspoon ground allspice
1 teaspoon canola oil
1 pound boneless, skinless chicken thighs
¼ teaspoon each salt and black pepper
3 cups diced Bartlett USA Pears (1 pound)
2 large onions, chopped (1 pound)
3 cups reduced sodium chicken broth
½ cup heavy cream
3 large eggs
1 large egg yolk
¼ cup mild olive oil
10 13 x 17-inch phyllo leaves
½ cup chopped almonds, toasted
1 tablespoon powdered sugar
¼ teaspoon cinnamon
DIRECTIONS
For chicken filling: If using whole seeds, grind coriander and cumin in a spice grinder, or crush with a mortar and pestle. Add cinnamon, ginger, and allspice. Set aside.
Heat canola oil in a deep skillet. Season chicken with salt and pepper, and brown on both sides. Remove from pan and set aside.
Add pears and onions to pan and sauté until lightly caramelized, about 10 minutes. Stir in spice mixture and cook 1–2 minutes until spices are fragrant.
Return chicken to pan. Add broth and cream. Cover and simmer over low heat about 30 minutes until chicken is cooked through. Transfer chicken to a plate to cool.
Continue to simmer sauce until thickened and reduced by half. Beat eggs and yolk; stir into sauce and cook on low heat about 10 minutes until sauce thickens again.
Shred chicken into bite-size pieces and return to pear mixture. Adjust seasoning with salt and pepper.
For pastilla: Preheat oven to 350 degrees. Lightly oil a 9-inch round springform pan. Fold one phyllo leaf in half and place on bottom of pan. Brush with oil. Evenly arrange 8 overlapping phyllo leaves in pan, draping ends over sides and lightly brushing each leaf with olive oil.
Spoon filling into pan. Top evenly with almonds. Fold ends of phyllo over filling. Brush top with oil. Bake 45 minutes until golden brown.
Let stand 10 minutes. Combine powdered sugar and cinnamon and sift over top of pastilla. Remove sides of pan and cut into wedges.
yield: Makes one 9-inch pie
NUTRITION
Serving Size: 1 Slice (255g)
Calories: 410
Carbohydrate: 33g
Dietary Fiber: 5g
Protein: 18g