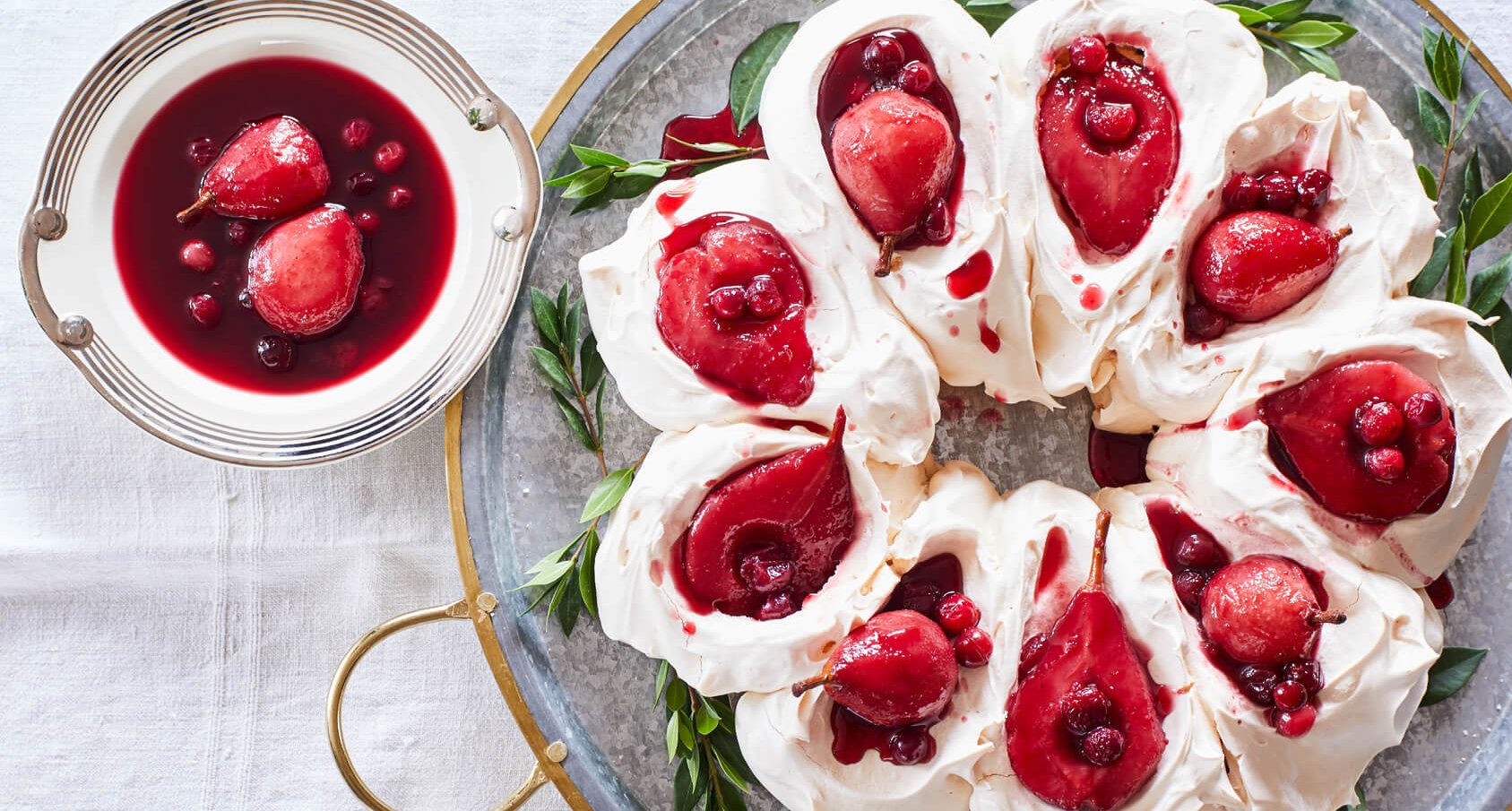 Pavlova Wreath with Cranberry-Hibiscus Poached Pears
This winter-white wreath is almost too pretty to eat. Almost! Cloudlike heaps of meringue are arranged in a circle and baked until shatteringly crisp on the outside yet chewy within. It's decorated with tender pears that are stained red in a poaching liquid of tart cranberries and hibiscus tea, reminiscent of glass balls and holiday garland. The complexity of the flavor is pure magic, and the presentation makes for a dreamy holiday dessert.
INGREDIENTS
Pavlova Wreath
6 large egg whites
1 1/2 cups superfine sugar
1 1/2 teaspoons white vinegar
2 cups whipped cream
Cranberry-Hibiscus Poached Pears
8 small USA Pears, such as Seckel, Forelle or small Anjou, or a combination
2 cups 100% cranberry juice
1/2 cup granulated sugar
3 thick strips orange peel
1 vanilla bean, split lengthwise and seeds scraped
1 cinnamon stick
2 cups fresh whole cranberries
water to cover
4 hibiscus tea bag, such as green tea or fruit tea
DIRECTIONS
Serves 8
Cranberry-Hibiscus Poached Pears
Peel all of the pears, and halve any Forelles or Anjous, but keep Seckels whole.
Place the pears in a saucepan that's just large enough to hold them snugly. Add the cranberry juice, sugar, orange peel, vanilla bean seeds and pod, and cinnamon stick. Pour in enough water to just cover the pears. Bring to a boil over medium-high heat, slowly stirring until the sugar has dissolved. Reduce the heat to maintain a gentle simmer. After about 5 minutes, add the fresh cranberries (some may pop open in the hot liquid), and continue cooking until the pears are tender, 3 to 8 minutes, depending on their size.
Remove the pan from the heat. Using a slotted spoon, fish out the pears and cranberries and transfer them to a shallow dish; set aside. Add the tea bags to the poaching liquid and let stand for 15 minutes. Remove the tea bags and strain the poaching liquid. Transfer it back to the pot and bring it to a boil over high heat. Boil until it reduces to a syrup consistency that just coats the back of a spoon, 5 to 8 minutes.
Pour the syrup over the pears and cranberries and cool completely. Cover and refrigerate until chilled, or for up to 1 week.
Pavlova Wreath
Preheat the oven to 250°F with a rack in the center position. In a very clean large bowl, or the bowl of a stand mixer, beat the egg whites on high speed until stiff peaks form. Begin adding the sugar, 1 tablespoon at a time, and beat for 20 seconds between each addition. Once all the sugar has been added, scrape down the sides of the bowl with a spatula, and continue beating until the mixture is stiff and very glossy, 5 to 6 minutes more. Add the vinegar and beat to thoroughly combine, about 2 minutes.
On a sheet of parchment paper, draw a 10-inch circle and place it on a large cookie sheet. Spoon 8 fluffy heaps of the meringue mixture around the circle to create a ring. Using the back of a spoon, make indentations in each heap that will later hold a poached pear after baking. Bake for 1 hour 30 minutes, then turn off the oven and allow the pavlova to cool completely in the oven. (This prevents cracking.)
To serve, very delicately pick up the parchment and transfer the pavlova to a round platter. Carefully slip the parchment from underneath the pavlova, if desired. Spoon a dollop of whipped cream in the indentations, and top with a poached pear and some cranberries. Drizzle with some of the syrup, and serve with any extra pears and syrup on the side.
NUTRITION
Serving Size: 1 Pavlova
Calories: 440
Fat: 11g
Carbohydrate: 87g
Dietary Fiber: 7g
Protein: 5g