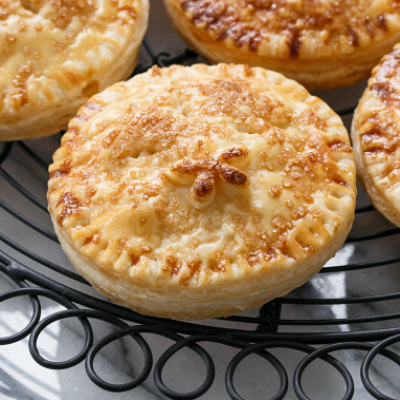 Buttery, flaky pie crust and a filling of sweet, aromatic pears and bits of marzipan in the palm of your hand.
INGREDIENTS
1 Green Bartlett pear, ripe but firm, cut into 1/4-inch dice
4 ounces almond paste or marzipan, cut into 1/4-inch dice (tossed with a sprinkling of sugar to prevent sticking)
2 teaspoons lemon juice
2 teaspoons granulated sugar
1/4 teaspoon almond extract
1 batch of your favorite pie crust (enough for a double crust pie). I personally likeMartha's Pate Brisee recipe.
1 large egg
1 tablespoon cream
raw or turbinado sugar, for sprinkling
DIRECTIONS
Preheat oven to 425 degrees F; arrange oven racks in top third and bottom third of oven. Line two baking sheets with parchment paper or silicone baking mats.
Combine diced pear and marzipan in a bowl. Toss with lemon juice, sugar, and almond extract.
Roll out pie crust slightly thinner than if you were making a typical pie. Cut into 3-inch rounds using a circle cutter or by tracing the rim of a drinking glass. Cut as many rounds as you can, then gather scraps into a ball and roll out again to get more rounds (these 'seconds' won't be quite as flaky as the first batch but you don't want to waste it nonetheless). Arrange half of rounds on prepared baking sheets, leaving 1-2 inches of space between them.
In a small bowl, whisk together egg and cream until smooth. Brush egg wash in a 1/2-inch ring around the edges of rounds using a pastry brush.
Spoon heaping tablespoons of diced pear mixture into the center of each round. Gently lay a second round on top of filling, stretching slightly to match up edges. Press the tines of a fork around the edge to seal. Repeat with remaining rounds. If desired, cut decorative flowers or other shapes, adhering them to the tops of the pies with a dab of egg wash.
Place baking sheets in freezer for 5 to 10 minutes (this will prevent the crust and decorations from losing their shape).
Remove from freezer and brush tops with a thin layer of egg wash. Sprinkle with turbinado sugar. With a small pairing knife, make a few small slits in the tops of the pies to allow the steam to vent.
Bake pies at 425 degrees for 15 minutes, then reduce oven temperature to 350 degrees F. Rotate baking sheets top to bottom. Bake for 10 more minutes or until crusts are puffed and deep golden brown. Remove from oven and let cool for 5 minutes before serving warm.
Recipe by Love and Olive Oil
NUTRITION
Serving Size: 1 Hand Pie (33g)
Calories: 110
Carbohydrate: 13g
Dietary Fiber: 1g
Protein: 2g
---
2 Comments » for Marzipan Pear Hand Pies