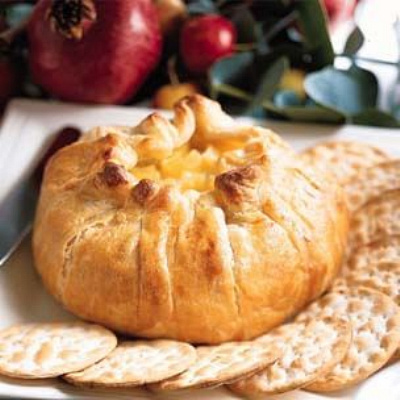 Baked Brie en Croute with Pears
Wow your guests with this unique appetizer that combines sweet baked pears with creamy Brie cheese wrapped in a beautiful crust.
INGREDIENTS
2 Bosc USA Pears, peeled, cored, and sliced
¼ cup water
2 tablespoons brown sugar
¼ cup cream sherry
⅛ teaspoon ground nutmeg
1 frozen puff pastry sheet, thawed
1 8-ounce Brie cheese round
1 egg
2 tablespoons milk
3 cups baby greens
DIRECTIONS
Preheat oven to 400 degrees. Lightly grease baking sheet.
In a large sauté pan, sauté pears with water, brown sugar, sherry, and nutmeg until pears are tender and excess moisture has evaporated.
Roll out puffed pastry so that it is large enough to completely wrap around Brie. Place pear mixture in the center of the puffed pastry and place the Brie round on top of the pears.
In a small bowl, combine egg and milk to make egg wash. Brush egg wash around edges of puff pastry and fold up edges to totally wrap around pears and Brie.
Flip puff pastry-wrapped Brie over onto the baking sheet and brush sides and top with egg wash.
Bake for 35-40 minutes or until golden brown.
Place baby greens on serving plate and place baked Brie on top.  Serve warm.
NUTRITION
Serving Size: 143g
Calories: 250 (50% calories from fat)
Fat: 14g Fat (7g Sat Fat)
Carbohydrate: 17g
Dietary Fiber: 2g
Protein: 10g
---
5 Comments » for Baked Brie en Croute with Pears