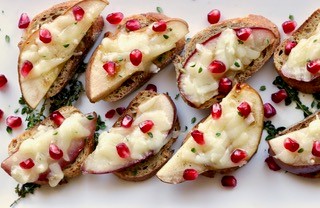 Roasted Pear Crostini with Manchego and Pomegranate
Here is a crowd-pleasing appetizer recipe for holiday entertaining. With a few flavorful ingredients you will WOW your guests with this delicious pear bite. The sweetness of the pears complements the nutty cheese and balances out that little pop of pomegranate. Recipe and photography by Good Grief Cook.
INGREDIENTS
1 bunch fresh thyme
2 USA Pears, (1 red like Anjou and 1 green like Bartlett), cored, halved, and cut into 1/4-inch slices
1 large baguette, cut on an angle into ½-inch slices (I like a whole grain loaf)
4 tablespoons butter, divided
2 tablespoons sugar
1 teaspoon fresh lemon juice
½ cup shredded mild Spanish Manchego cheese
Freshly ground black pepper, optional
¼ cup fresh pomegranate seeds
DIRECTIONS
Heat oven 375F.
Line two baking sheets with aluminum foil. Lightly coat with cooking spray.
Spread several thyme sprigs over bottom of one baking sheet. Fan pear slices over top of thyme.
Using two tablespoons of butter, spread butter lightly over 1 side of each bread slice and place butter-side-up on other baking sheet.
Melt remaining butter in a small skillet over medium-high heat until foaming subsides. Add sugar and swirl until melted and starting to brown. Remove from heat and stir in lemon juice.
Spoon mixture evenly over sliced pears. Bake pears and bread for 10 minutes.
Arrange baked pears on top of crostini. Sprinkle each with some cheese.
Return crostini to oven and bake for 5 to 6 minutes or until cheese is melted.
Sprinkle with pepper, if desired and top with pomegranate seeds and fresh thyme leaves. Serves 8 to 10.
NUTRITION