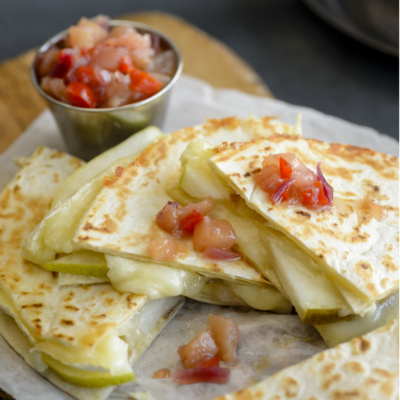 Pear and Brie Quesadilla with Fresh Pear Chutney
From the chefs at The Peasant and the Pear in Danville, California comes this tasty quesadilla that combines fresh pears with both creamy brie and milky mozzarella on a grilled flour tortilla. The subtle spice of the pear chutney is the perfect accompaniment to this deliciously unique interpretation of the traditional quesadilla.
INGREDIENTS
Pear Chutney
¼ cup dry white wine
½-inch wedge of red onion, sliced thin
2 tablespoons chopped red bell pepper
1 tablespoon dark brown sugar
1 Bartlett USA Pear, peeled, cored, and cut into 1-inch chunks
2 tablespoons of water, or more if needed
Red pepper flakes
Quesadilla
1 12-inch flour tortilla
½ of an Anjou USA Pear, cored and cut into ¼-inch slices
6 ¼-inch slices of Brie cheese
2 tablespoons shredded mozzarella cheese
DIRECTIONS
For chutney: Place all ingredients in a small saucepan. Cook over medium heat, stirring frequently, until pear is crisp-tender and most of the liquid has evaporated. You may add water if liquid completely evaporates before pear is cooked. Transfer mixture to a blender or food processor and add water. Pulse quickly, just until chopped together as a chunky mixture, with ¼-inch chunks of pear, onion, and pepper. Add more water if necessary to achieve the consistency you desire. Place pear mixture in a bowl, and stir in pepper flakes to taste. Let chutney cool completely before serving. Chutney can be stored in the refrigerator, covered, for up to 3 days.
For quesadilla: Heat oven to 425 degrees. Lay tortilla on a flat surface. Spread pear slices across half of the tortilla. Lay Brie across the top of the pear slices. Sprinkle mozzarella over the Brie. Fold other half of the tortilla over the pear and cheese mixture. Transfer tortilla to a lightly greased or parchment-lined cookie sheet and bake until cheese melts and bubbles, about 3–5 minutes. Remove tortilla from oven, cool slightly, and cut into 6 wedges. Serve on a plate or platter with a small bowl of chutney on the side.
NUTRITION
Serving Size: 1 Quesadilla
Calories: 580
Carbohydrate: 63g
Dietary Fiber: 5g
Protein: 23g