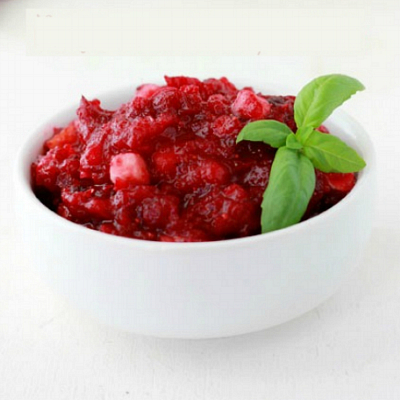 Bosc Pear and Cranberry Relish
Expect this recipe to almost be like a jalapeno jelly. Serve it with your holiday turkey and stuffing or on top of a brick of cream cheese with crackers as a snack or appetizer. If you chose the latter I suggest dicing up a pear and sprinkling it over the top as an accent. The display is beautiful and the flavor will have everyone going for seconds.
INGREDIENTS
1 tablespoon olive oil
2 teaspoons finely diced shallots
1/8 teaspoon salt
1/2 cup brown sugar
12 oz fresh cranberries
zest of 1 orange
2 tablespoons orange juice
1 large USA Pear, the Bosc variety
DIRECTIONS
Heat the olive oil in a medium sized skillet. Sauté shallots for 1-2 minutes or until soft. Stir in the salt, brown sugar and cranberries. Cook on low heat 1-2 minutes more or until the sugar starts to melt. Remove from the heat and stir in the orange juice and zest.
Transfer to a food processor and pulse 2-3 times until the mixture is finely diced.
Chop the pear into small chunks and stir into the cranberry mixture. Serve with turkey and stuffing or as a snack with crackers and cream cheese.
NUTRITION
Serving Size: 1 TBSP
Calories: 50
Carbohydrate: 12g
Dietary Fiber: 1g
Protein: 0g