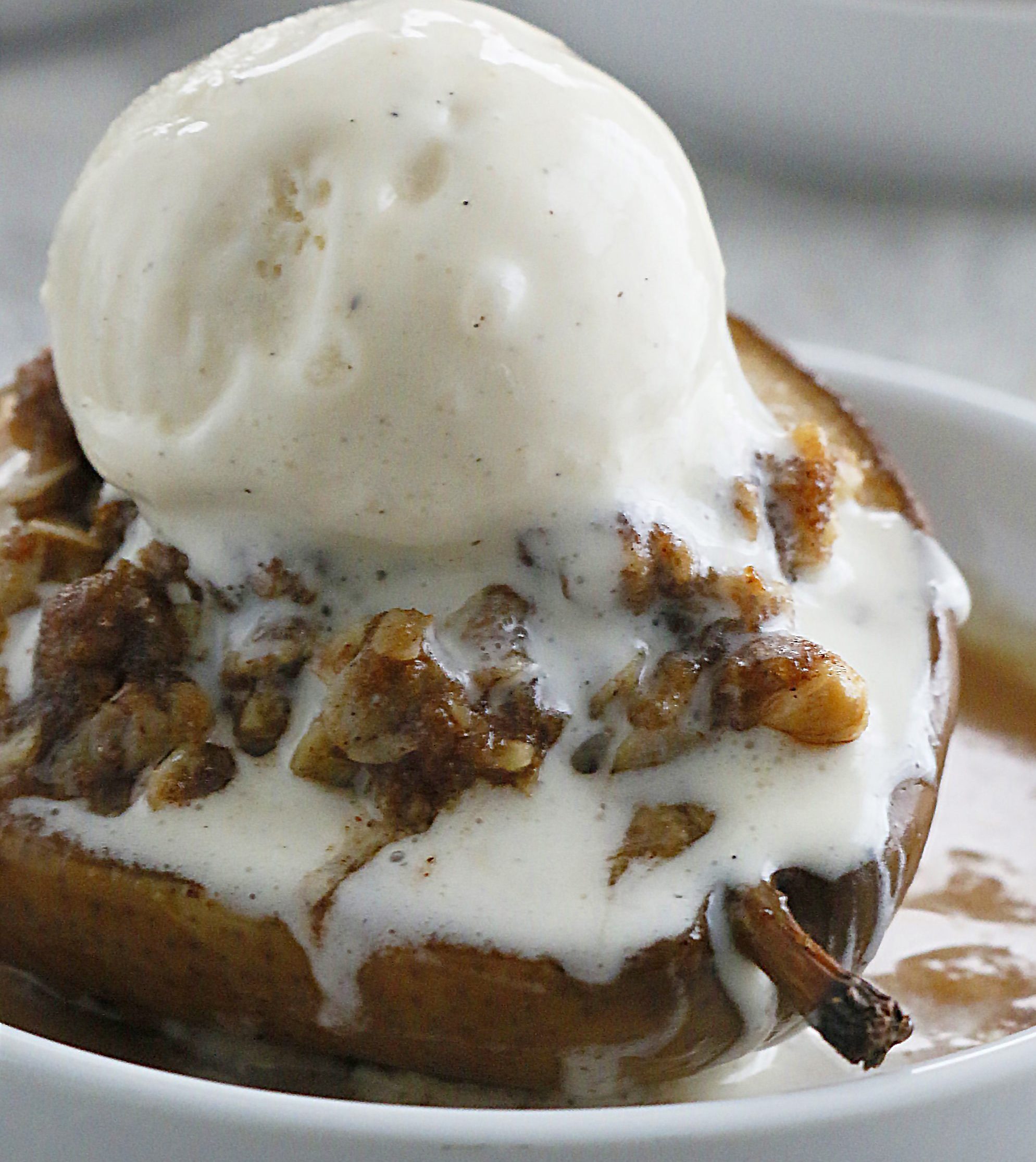 Baked Pears with Walnut Oat Crumble
Simple baked pears with walnut oat crumble is delicious with vanilla ice cream for an easy yet elegant dessert or topped with Greek yogurt for breakfast. Recipe and photography by Maria Doss aka Kitchen @ Hoskins.
INGREDIENTS
2 pears, medium-large (ripe yet firm)
1/2 cup golden brown sugar (not packed)
1/4 cup chopped walnuts
1/4 cup old fashioned oats
1 teaspoon ground cinnamon
1/4 teaspoon salt
4 tablespoons butter, room temperature
To serve (optional):
vanilla ice cream
sweetened greek yogurt (refer to notes)
DIRECTIONS
Pre-heat oven to 375° F and have a medium size baking pan (choose any baking pan that will fit 4 pear halves in a single layer without having too much of empty space)
Make Walnut Oat Crumble:
Stir brown sugar, walnuts, oats, cinnamon and salt together in a medium bowl. Add butter and mix with your fingertips , until combined.
Prepare pears:
Cut the pears in half and using a small ice cream scoop out the seeds along with some of the flesh (to make space for the stuffing).
Stuff pears
Pour 5 tablespoons to 6 tablespoons water into the baking pan. Place pear halves, cut side up. Spoon walnut oat crumble into the middle cavity.
Bake for 35 to 45 minutes (depending on the size, refer notes), until pears have softened.
Remove from oven and let cool until warm.
To serve:
Remove pears onto a serving plate and spoon the sauce from the bottom of the pan (give a good stir before using) on top of the pears.
Top with vanilla ice cream for dessert or sweetened Greek yogurt for breakfast.
Notes:
Sweetened Greek yogurt – Stir some honey and plain Greek yogurt together. Can be made ahead and stored in the refrigerator until serving time.
Pear – I used Bartlett variety. Select ripe but firm fruits.
Use sliced almonds or pecans instead of walnuts. 
Make it nut free – use all oats. 
Baking time – Depends on the size of pears. 
Medium pears takes 35-40 minutes.
Large pears takes about 40-45 minutes.
NUTRITION
---
2 Comments » for Baked Pears with Walnut Oat Crumble