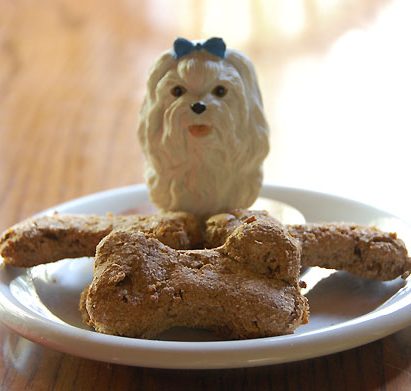 Pear and Molasses Dog Biscuits
Now, you can share the pear love with your pooch! Thanks to Paris and John at DogTipper for sharing their recipe rights! For more information and some great prep photos, check out the original post at www.dogtipper.com.
INGREDIENTS
2 cups chopped pears, cored
2 ½ cups whole wheat flour
¼ cup water
1 tablespoon baking powder
3 tablespoons molasses
DIRECTIONS
Preheat oven to 350 degrees and grease a cookie sheet.
Chop pears by hand or in a blender in small batches. Place all ingredients in a large bowl and mix by hand until sticky.
Turn the dough out on a lightly floured surface and knead, adding extra flour if it's extremely sticky. Roll it out to about ¼-inch thickness, then cut it into squares or use a cookie cutter to create other fun shapes.
Place biscuits on cookie sheet. They can be placed close together (they don't spread), but shouldn't touch. Bake biscuits for 30 minutes or until the bottoms are golden brown. Cool the biscuits completely before refrigerating or serving.
NUTRITION