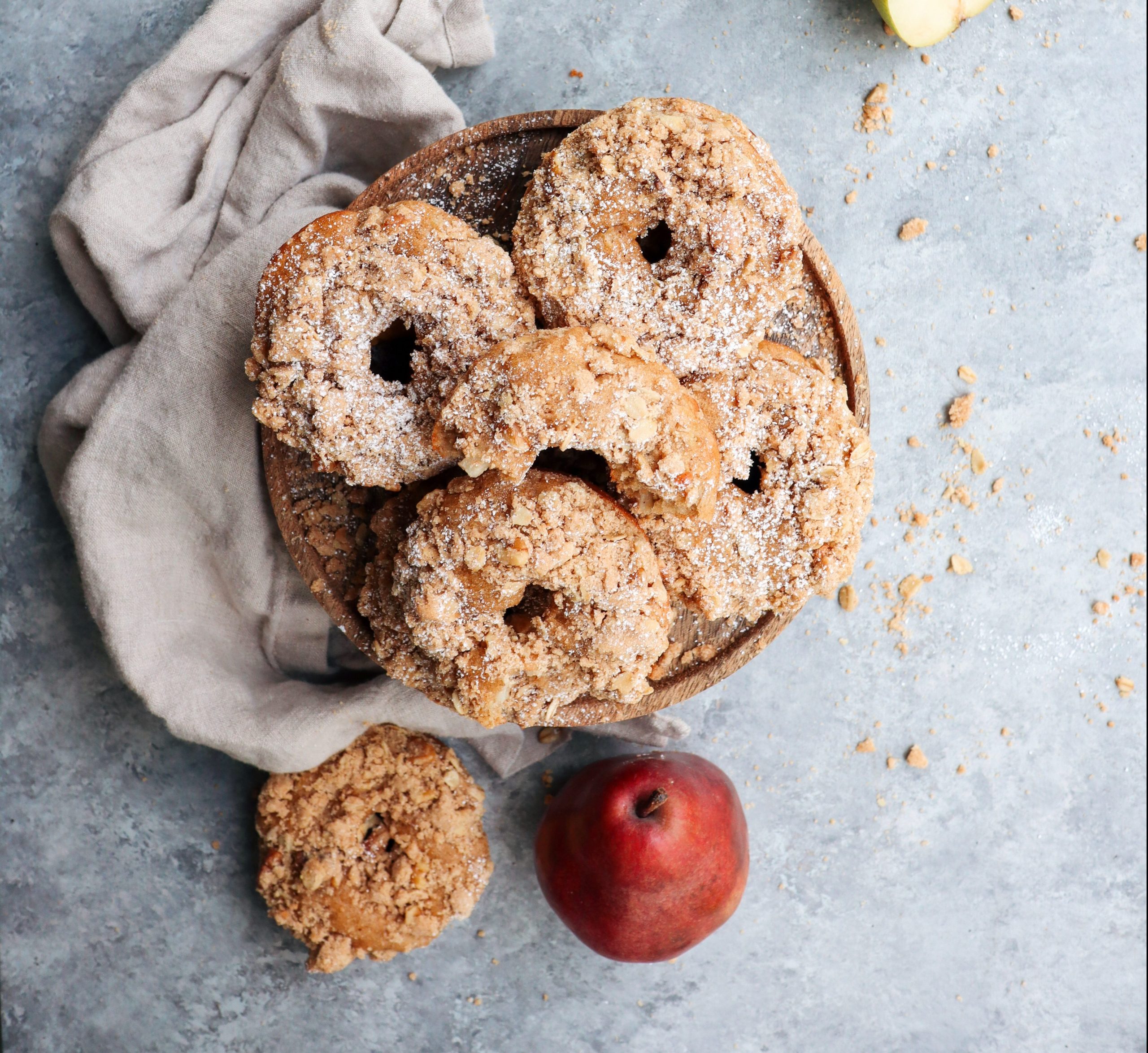 Baked Pear Crumb Doughnuts
Are you team doughnuts with a crunchy crumb or without? For me, a crumb makes everything better. Luckily, these baked pear crumb doughnuts using pears can be made either way! Not only that, but they take less than 15 minutes to bake and are composed almost entirely of ingredients you're likely to have sitting right in your pantry! Recipe and description by Caitlyn Elf/ caitsplate
INGREDIENTS
For the Doughnuts:
1 cup all-purpose or white whole wheat flour
¾ teaspoon baking powder
½ teaspoon baking soda
½ teaspoon ground cinnamon
½ teaspoon ground ginger
¼ teaspoon salt
½ cup plain, whole milk Greek or skyr yogurt
¼ cup packed brown sugar
¼ cup canola oil
2 large eggs
½ teaspoon vanilla extract
1 pear, diced (preferably green or red Anjou)
For the crumb-topping:
½ cup all-purpose or white whole wheat flour
¼ cup rolled oatmeal
2 tablespoons brown sugar
¼ teaspoon cinnamon
1/8 teaspoon salt
2 tablespoons crushed walnuts
4 tablespoons room temperature butter
DIRECTIONS
1. Preheat oven to 375 degrees F and grease two 8-section doughnut pans.
2. Combine flour, baking powder, baking soda, cinnamon, ginger and salt in a mixing bowl and whisk to combine.
3. In a separate mixing bowl, combine yogurt, sugar, canola oil, eggs and vanilla extract and use an electric beater to combine.
4. Add wet ingredients to dry ingredients and stir a few times to incorporate. When there are a few flour pockets remaining, fold in pears.
5. Mix until just combined and pears are evenly distributed.
6. Make the streusel by combining everything together in a bowl and use your hands to combine.
7. Pour batter into a piping bag then pipe into prepared doughnut pans (I find this easiest).
8. If using: add streusel to the top of each doughnut and press down gently, to ensure it sticks.
9. Bake for 10-12 minutes or until doughnuts spring back to the touch. Let cool for 5 minutes, then enjoy!
NUTRITION