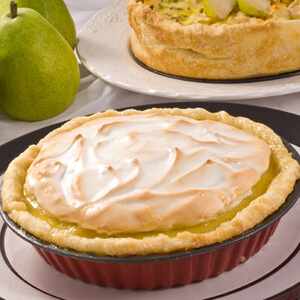 It's best to make the meringue just before you're ready to serve the pie. If it's made several hours ahead, the meringue will droop.
INGREDIENTS
⅔ cup sugar
2 tablespoons flour
⅓ cup milk
2 egg yolks, beaten
1 teaspoon lemon peel, grated
4 Green Anjou USA Pears, peeled, cored, and sliced
2 tablespoons lemon juice
1 unbaked pie crust
3 egg whites
¼ teaspoon vanilla
6 tablespoons sugar
DIRECTIONS
Preheat oven to 400 degrees. Beat sugar with flour, milk, egg yolks, and lemon peel until smooth. Toss pear slices with lemon juice in a large bowl. Add milk mixture and mix until pears are well coated. Pour into pie crust, cover the edges with foil, and bake for 20 minutes or until pears are tender.
In a medium bowl, beat egg whites with vanilla using an electric beater on medium speed until foamy. Gradually add sugar, one tablespoon at a time. Beat on high speed after each addition until sugar is completely dissolved. Spread meringue mixture over pear filling in pie and bake inside oven at 350 degrees until top is golden brown. Set pie aside to cool.
NUTRITION
Serving Size: 1 Slice (238g)
Calories: 490
Carbohydrate: 88g
Dietary Fiber: 5g
Protein: 6g
---
1 Comment » for Green Anjou Meringue Pie