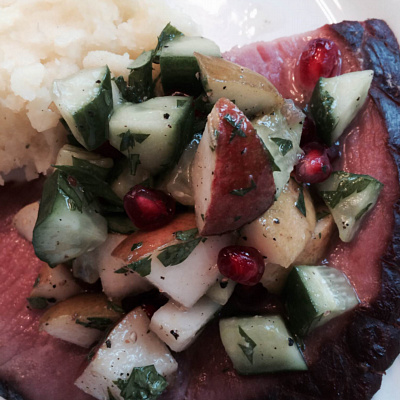 Holiday Ham with Pear Relish
Grace your holiday table with this delicious smokey holiday ham, smothered in a savory, sweet pears, cucumber and pomegranate relish you'll want it serve it more often than just on special occasions..... Recipe courtesy of Mary Nolan
INGREDIENTS
Ham
1/4 cup Dijon mustard
3 tablespoons light brown sugar
1 teaspoon freshly ground black pepper
1 8-9 pound cured, smoked, bone-in half ham
3 small pears for garnish
Relish
2 tablespoons white wine vinegar
1 teaspoon Dijon mustard
1 teaspoon kosher salt
1/2 teaspoon freshly ground black pepper
5 tablespoons olive oil
5 small pears, chopped into 1/2-inch cubes
3 mini seedless cucumbers, chopped into 1/2-inch cubes
1/2 cup pomegranate seeds
1/2 cup roughly chopped flat-leaf parsley
DIRECTIONS
Prepare Ham:
Preheat oven to 350°. Whisk mustard, brown sugar, and black pepper in a small bowl. Set ham on a rack in a large roasting pan and pour in 2 cups water. Score fat in a crosshatch pattern, cutting about 1-2" deep. Brush ham with mustard mixture and roast, basting every 20 minutes with pan juices and tenting with foil if browning too quickly, until an instant-read thermometer inserted into thickest part of ham registers 135°, about 1-2 hours.
Transfer ham to a cutting board and let rest 10 minutes before slicing. Serve with relish.
Prepare Relish:
In a large bowl, whisk the vinegar, mustard, salt and pepper in large bowl until combined. Slowly stream in oil and continue whisking until blended. Add pear, cucumber, pomegranate seeds and parsley and mix well. Do ahead: Relish can be prepared up to 4 hours before serving; chill.
Chef's note: At the market, I find half hams more readily available and a more manageable serving size. The relish can easily be doubled if you are preparing a whole ham.
NUTRITION
Serving Size: 14 oz
Calories: 670
Carbohydrate: 15g
Dietary Fiber: 2g
Protein: 72g