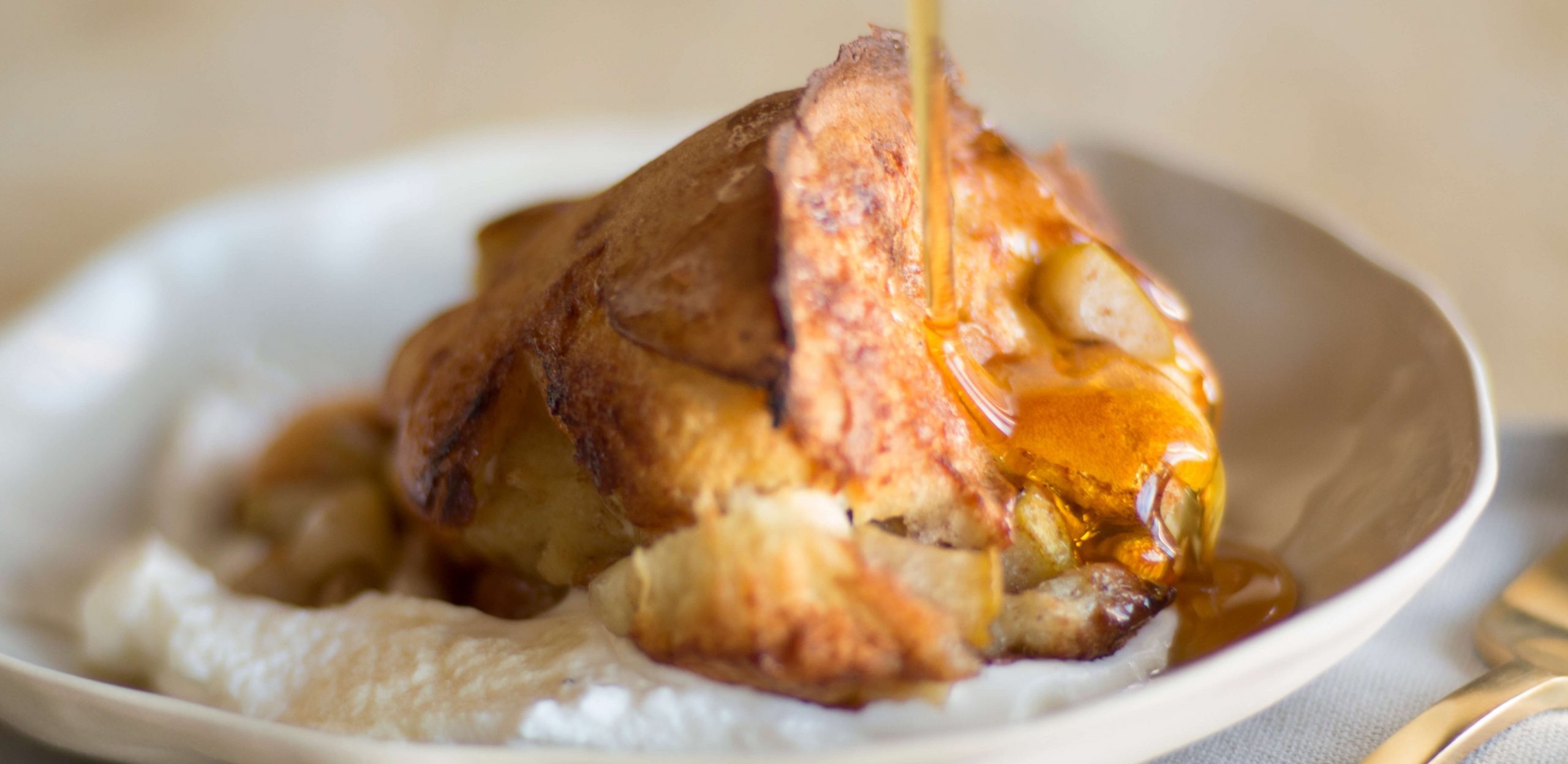 Here is an elegant and delicious breakfast recipe that is incredibly easy to make. The simple batter is whipped up in the blender and poured into a muffin tin filled with warm, cinnamon-spiced pears. Just 25 minutes in the oven and the popovers become light, fluffy, and irresistibly golden brown. Serve them immediately after taking them out of the oven for a beautiful display!
INGREDIENTS
¼ cup (half a stick) butter
2 firm ripe USA Pears, such as Green Anjou or Bosc, medium dice
½ teaspoon cinnamon
3 eggs
1 cup milk
½ teaspoon vanilla
1 cup flour
⅛ teaspoon salt
Maple syrup for serving and optional creme fraiche, clotted cream or whipped cream
DIRECTIONS
Preheat the oven to 425 degrees.
Melt the butter in the microwave in a medium bowl, about 30 seconds. Lightly grease a 12-muffin or popover tin, including about ½ an inch around the edges of each muffin cup.
Add the diced pears and cinnamon to the bowl with the remaining butter and gently stir to combine.
Divide the pear mixture between the 12 muffin cups. Preheat oven for 5 minutes.
Combine the eggs, milk, and vanilla in a blender and blend to mix.
Whisk the flour and salt together in a small bowl and add it to the blender. Cover and blend to thoroughly combine the ingredients, scraping down the sides if necessary.
Once the timer goes off, immediately pour the batter over the pears without removing pan from the oven, leaving about ¼ inch of room at the top of each muffin cup. Bake for 22-25 minutes, undisturbed, or until the popovers have puffed up and are beginning to turn golden brown.
Loosen the popovers from the tin and serve immediately. Top each popover with any bits of pear that remain in the tin and drizzle with maple syrup, if desired.
NUTRITION
Serving Size: 1 Popover (247g)
Calories: 440
Carbohydrate: 54g
Dietary Fiber: 4g
Protein: 10g
---
4 Comments » for Pear Breakfast Popovers