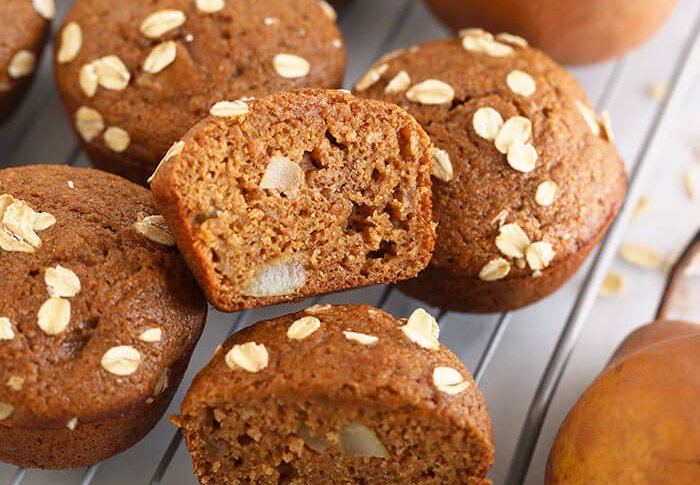 Naturally sweetened with pear puree and maple syrup, these healthy cinnamon pear muffins are the perfect snack or nutrition-packed breakfast. They're made with 4 whole large Bosc pears, 100% white whole wheat flour, and ground cinnamon. Recipe by Lee Hersh (Fit Foodie Finds).
INGREDIENTS
ROASTED PEAR PUREE
3 large Bosc Pears
coconut oil cooking spray
1/4 teaspoon ground cinnamon
PEAR MUFFINS
1 large Bosc Pear, seeds removed and finely diced
1 and 1/2 cups white whole wheat flour
1/2 cup coconut sugar
1 teaspoon baking soda
1/8 teaspoon salt
1 teaspoon ground cinnamon
1/2 teaspoon ground ginger
2 large eggs
1/2 cup maple syrup
1/2 cups almond milk, unsweetened
1 teaspoon vanilla extract
3 tablespoons melted coconut oil
1 cup pureed roasted pears
DIRECTIONS
ROASTED PEAR PUREE
Slice 3 large Bosc pears in half. Then, place pear halves on a greased baking sheet flat side up. Spray pear halves with coconut oil cooking spray and pierce pears a couple of times with a fork. Then, sprinkle on some ground cinnamon.
Roast at 400ºF for 15 minutes flat side facing up. Then, flip pears and roast for another 10-15 minutes or until you can easily pierce them with a fork.
Let pears cool for 15 minutes before removing seeds and skin. Place in a high-speed blender and add 1 tablespoon of water. Blend on high until a puree has formed. This should yield around 1 cup of pear puree.
CINNAMON PEAR MUFFINS
First, preheat oven to 350ºF and spray a nonstick muffin tin with coconut oil cooking spray.
Prepare pear chunks by slicing a large pear in half. Remove the seeds and stem and finely dice. Then place into a medium bowl along with all of the other dry ingredients. Mix.
Place 1 cup of pear puree* (from above) into a large bowl. Then add all wet ingredients (minus the melted coconut oil) and whisk until combined.
Slowly add dry ingredients to wet and mix until combined. Add in melted coconut oil and mix one final time, making sure everything is thoroughly combined.
Transfer batter into muffin tin by filling each muffin about 3/4 of the way full or even close to the top. Option to sprinkle on optional nuts or rolled oats for texture.
Then, bake at 350ºF for 18-20 minutes or until muffins are fully cooked in the middle.
NUTRITION
Serving Size: 1 Muffin (106g)
Calories: 200
Carbohydrate: 36g
Dietary Fiber: 4g
Protein: 3g