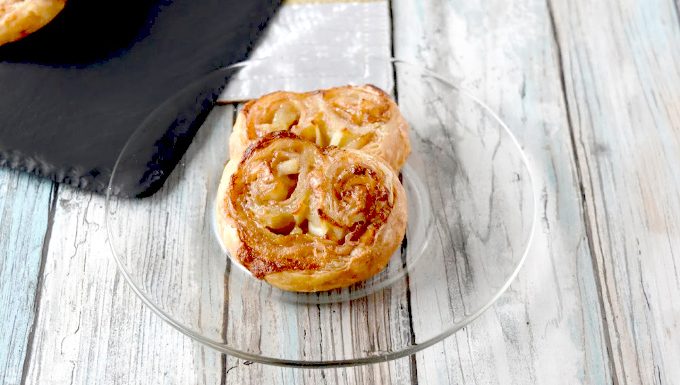 Sweet USA Pears and salty prosciutto combine with creamy bleu brie in this easy but elegant appetizer. Pear Prosciutto Palmiers come together in minutes, bake in under 20, and look gorgeous on the plate. Recipe and photography by A Kitchen Hoor.
INGREDIENTS
1 sheet puff pastry, thawed
2 Concorde pears, thinly sliced (make sure they're thin enough that they will roll up)
2 ounces thinly sliced prosciutto
4 ounces sliced bleu brie
DIRECTIONS
Preheat oven to 400.
Unwrap the sheet of puff pastry and place on a clean work surface.
Place a thin layer of prosciutto on the puff pastry.
Top with thin slices of pear.
Place the slices of bleu brie on top of the pears.
Carefully roll up each side of the puff pastry making sure to roll as tight as possible.
If you're making these ahead of time, wrap the blog in plastic wrap and store in the refrigerator.
Slice about 1/2 inch thick and place the slices on a silpat lined baking sheet.
Bake at 400 for 15 to 20 minutes or until golden brown.
Cool slightly in pan before serving.
NOTES: To make the brie easier to slice, place it in the freezer 10 or 15 minutes until firm enough to thinly slice.
NUTRITION