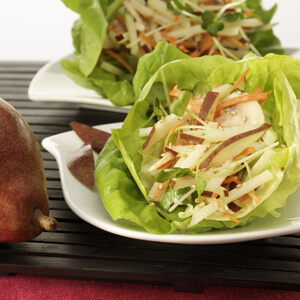 Spicy Wasabi Pear Lettuce Wrap
This cool pear lettuce wrap packs some heat with tasty wasabi dressing. Serve this as a side salad or even as finger food when everyone's over to watch the big game.
INGREDIENTS
⅓ cup mayonnaise
3 tablespoons rice wine vinegar or white wine vinegar
1 ½ teaspoons wasabi paste
2 USA Pears
1 head butter lettuce leaves, washed, trimmed
2 cups mushrooms, thinly sliced
2 cups radish sprouts
1 ½ cups carrots, peeled and grated
4 teaspoons sesame seeds, toasted
DIRECTIONS
Whisk mayonnaise, vinegar and wasabi paste in medium bowl until blended.
Slice pear stem side up into 12 quarter-inch width vertical planks. Cut pieces into thin julienne slices. Place in bowl with wasabi dressing and toss until coated.
Place lettuce leaves on plate and top with mushrooms, sprouts, carrots, and pears. Drizzle any remaining dressing in bowl over pears. Sprinkle with sesame seeds and serve.
NUTRITION
Serving Size: 1 Wrap
Calories: 70 (60% Calories from Fat)
Carbohydrate: 6g
Dietary Fiber: 1g
Protein: 1g