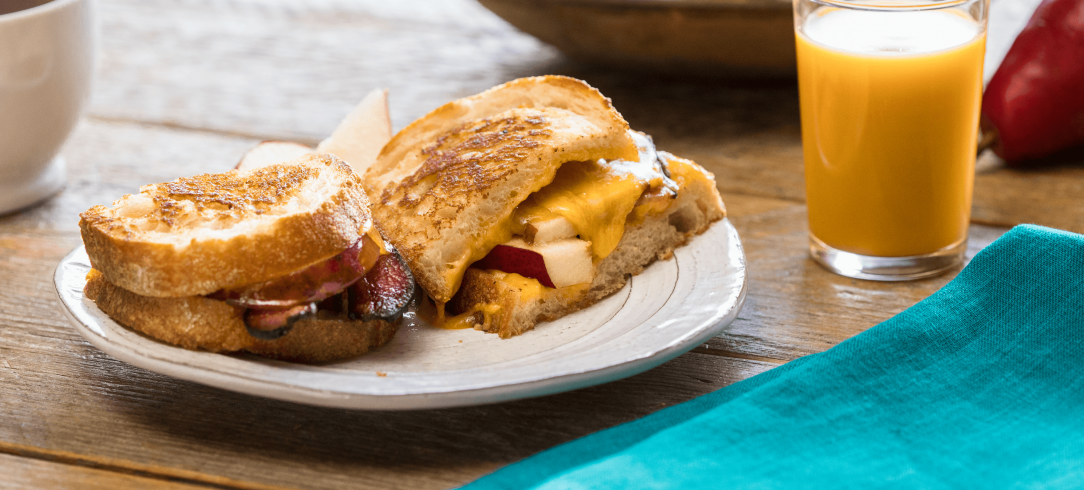 Breakfast Pear and Bacon Grilled Cheese Sandwich
This is a hearty, perfect breakfast sandwich for families on the go. Wrap the sandwich in foil and send it on the school bus as your children are racing out the door. It even works great as a quick dinner time meal with a warm bowl of soup. Cook the bacon in the microwave to save time and clean-up.
INGREDIENTS
4 slices sourdough, whole wheat, or white bread
4 slices of Cheddar cheese
1 firm but ripe red pear such as Red Anjou or Starkrimson peeled, halved lengthwise, cored and cut into 4 thick slices
4 slices cooked bacon
2 tablespoons butter, softened
DIRECTIONS
Place 2 slices of bread on a work surface and top each slice with a piece of the cheese. Arrange 2 slices of pear on top of each piece of cheese. Add 2 slices of bacon, and then top with another piece of cheese. Place a slice of bread on top and butter the top slices of bread with half of the butter. Preheat a griddle or large skillet. Place the sandwiches buttered side down on the hot griddle or pan. Butter the top side of the sandwiches. Grill until nicely browned on one side and then flip and brown the other side. Cut each sandwich in half and serve immediately.
NUTRITION
Serving Size: 1 Sandwich (255g)
Calories: 710
Carbohydrate: 62g
Dietary Fiber: 9g
Protein: 28g
---
3 Comments » for Breakfast Pear and Bacon Grilled Cheese Sandwich