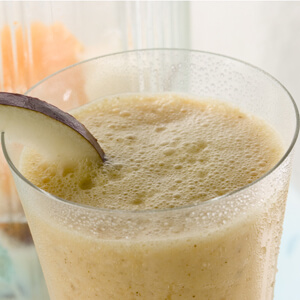 This smoothie is a pear-fect breakfast or afternoon snack. Super-quick to make, it's loaded with fiber, vitamin C, and calcium and low in calories. You can easily substitute vanilla soy milk with skim or low-fat milk and ½ teaspoon of vanilla extract. For an added calcium boost, add a container of your favorite yogurt!
INGREDIENTS
1 ripe USA Pear, cored and chopped
1 large orange, peeled
½ cup vanilla soy milk
1 cup ice
2 tablespoons granulated sugar
DIRECTIONS
Place all ingredients in blender and blend until thick. Enjoy!
NUTRITION
Serving Size: 8 oz
Calories: 150
Carbohydrate: 36g
Dietary Fiber: 5g
Protein: 2g