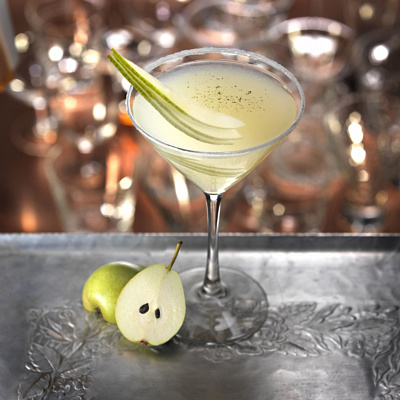 This delicious drink looks great in a martini glass, champagne flute or cocktail glass, especially with the sparkle of the sugared rim. The vodka float and black pepper make for a subtle, elegant appearance but the addition of a few pear batons as garnish would not detract from its simplicity. A very thin pear slice (cut on a mandolin) can also be floated on top. Developed by Louis Bustamente, Vallejo, California.
INGREDIENTS
Granulated sugar
1/4 USA Bartlett pear, sliced
1/2 oz fresh-squeezed lemon juice
3/4 oz pear liqueur, such as Clear Creek Pear Brandy or Aqua Perfecta Pear Eau de Vie
3/4 oz vodka
1/4 oz vanilla-infused simple syrup (see recipe below)
Mandarin blossom vodka, such as Hangar One or Absolut Mandarin
Ice
Finely ground fresh black pepper
DIRECTIONS
Mix:
Dip the rim of a chilled cocktail glass in sugar and set aside.  In a shaker, muddle pear slices with lemon juice. Fill with ice; add pear liqueur, vodka and simple syrup. Shake well and strain into the sugar-rimmed glass. Add a float of mandarin blossom vodka and a sprinkle of freshly ground black pepper.
Vanilla-Infused Simple Syrup
1 cup granulated sugar
1 cup water
1/2 fresh plump vanilla bean, split and scrape
Bring sugar and water to boil in small pot. Remove from heat and add the vanilla bean and seeds. Cover and let sit for 20 minutes. Strain and chill.
NUTRITION
Serving Size: 3 oz
Calories: 200
Carbohydrate: 16g
Dietary Fiber: 2g
Protein: 0g