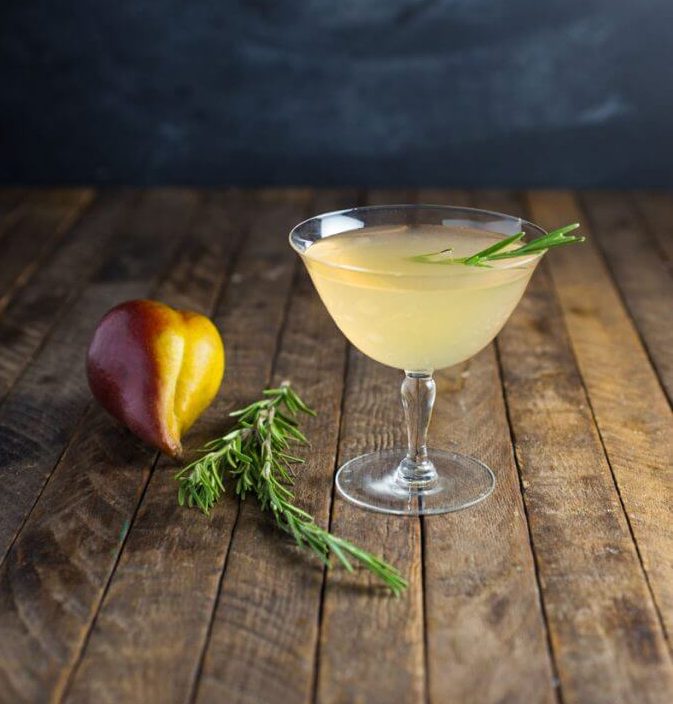 Spiced Poached Pear Cocktail with Rosemary
An elegant Fall cocktail with spiced pear syrup. A garnish of fresh rosemary adds a herbal note which balances the warm, spicy sweetness. Recipe and photography by Emily Clifton of Nerds with Knives.
INGREDIENTS
For 2 cocktails:
4 oz vodka
1½ oz Lillet Blanc
2-3 oz pear syrup (depending on how sweet you like your drinks)
1½ oz lemon juice• 2 small sprigs rosemary
For the Spiced Pear Syrup:
2 large or 3 small ripe Comice pears (or other sweet variety), chopped into 1 inch pieces (no need to peel)
1 cup water
½ cup white wine
1 cup sugar
1 cinnamon stick
1 star anise pod
1 three inch strip of lemon zest, peeled with a vegetable peeler
DIRECTIONS
Make the syrup:
In a small saucepan combine water, wine, sugar, cinnamon, star anise and lemon zest. Bring to a boil over medium-high heat then reduce to a simmer. Add the chopped pears and cook until pears are soft and the liquid becomes syrupy, about 30 minutes.
Remove from heat and strain through a fine-mesh sieve into a clean glass jar. Don't press the pears or the syrup will become cloudy. Discard the solids and chill syrup until ready to use.
Make 2 cocktails:
In a cocktail shaker filled with ice, combine vodka, Lillet, lemon juice and pear syrup. Shake vigorously for 15-20 seconds.
Strain into 2 cocktail glasses. Twist the rosemary sprigs a few times to release the oils and garnish each glass.
Recipe and photography by Emily Clifton of Nerds with Knives.
NUTRITION
Serving Size: 4.5 oz
Calories: 220
Carbohydrate: 11g
Dietary Fiber: 1g
Protein: 0g