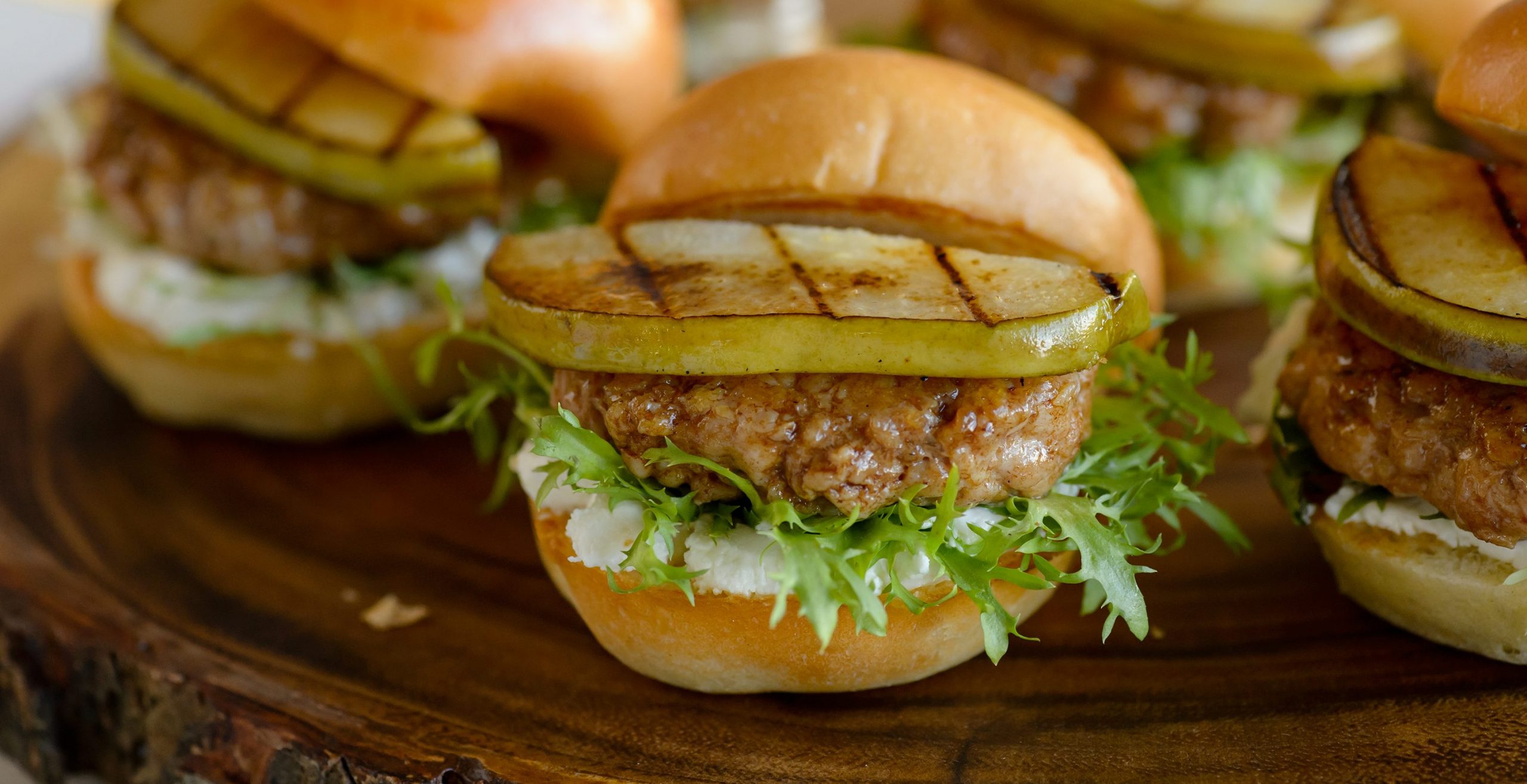 Turkey Burger and Pear Sliders
Indulge in your burger craving without feeling guilty! Grilled fresh sweet pear and creamy Chèvre goat cheese help satisfy the foodie in all of us. These mini gourmet turkey and pear burgers will soon become a grilling favorite.
INGREDIENTS
For Turkey Burgers

1 pound ground turkey
1/2 cup Italian-seasoned breadcrumbs
1 large egg, beaten
1 tablespoon minced dried onion
1 teaspoon Worcestershire sauce
1/2 teaspoon salt
1/2 teaspoon freshly ground pepper
Assembly

12 small slider roll/buns
1-2 Bartlett or Anjou pears sliced (or planked)
3/4 cup Chèvre goat cheese (or creamy goat cheese of your choice)
Arugula lettuce
DIRECTIONS
To make Turkey Burgers
Combine all ingredients in large bowl.
Shape into 12 patties (to fit the buns you selected)
Pan-fry, broil, or grill until turkey burgers lightly browned and cooked through, about 5 minutes per side.
To make Pear Slices
Cut pears into 1/4-inch slices (or use a pear-planker) and spray lightly with nonstick spray.
Grill or broil pear slices until brown in spots, about 2 minutes per side
To Assemble
Separate 12 small slider rolls.  Spread bottom half with 1-2 tablespoons of your favorite creamy goat cheese (we used Chèvre). Put cooked turkey burger and a pear slice on top of goat cheese and top with fresh arugula leaves and serve.
NUTRITION
Serving Size: 2 Sliders
Calories: 420
Carbohydrate: 45g
Dietary Fiber: 5g
Protein: 23g