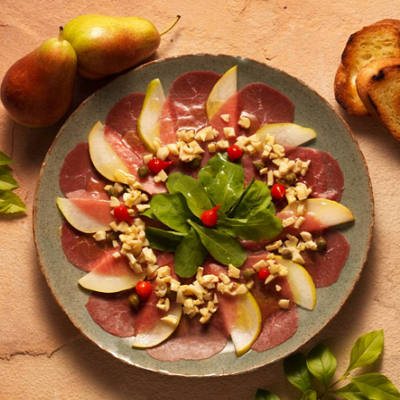 Carpaccio is the international name of a typical Italian dish made with raw meat which was invented and popularised in the second half of the twentieth century by Giuseppe Cipriani, founder of Harry's Bar in Venice. Originally the recipe called for thinly sliced or pounded thin, raw beef but later was extended to dishes containing other raw meats or fish.
INGREDIENTS
Carpaccio
2 USA Pears
Juice of 1 lime
250g of sliced meat for Carpaccio
Sauce
8 table spoons of extra virgin olive oil
4 table spoons of White wine
1 tea spoon of mustard
1 pinch of salt
4 table spoon of small capers
1 cup of mushrooms diced
2 table spoon of fresh red pepper
1 table spoon fresh oregano
For Garnish
Arugula
DIRECTIONS
Wash the USA Pears and cut into slices, keeping the skin. Cut into thin slices. Mix with the lemon juice. On 4 plates, merge the slices of meat and pears.
Mix the sauce ingredients and pour over the meat and pears.
Garnish with arugula and serve with toast or slices of French bread.
NUTRITION
Serving Size: 8 oz
Calories: 430
Carbohydrate: 17g
Dietary Fiber: 4g
Protein: 14g