At a time when we're all trying to minimize trips to the grocery store and finding fewer of the meat choices and other ingredients we rely on, meat-free recipes provide the nutrition and budget solutions we need. Adding plant-based or meat free dishes into your diet also doesn't have to mean going full vegan, and there are tons of super flavorful recipes that are easy to make. One medium-sized pear contains six grams of fiber, which means it's filling and accounts for 21% of your daily recommended fiber intake, plus there are plenty of other nutritional benefits. Pears also make for a deliciously versatile ingredient in a seemingly endless array of dishes that you might normally associate with meat.
We've selected 13 of our favorite pear recipes that are meat-free, filling, easy to make and loaded with flavor!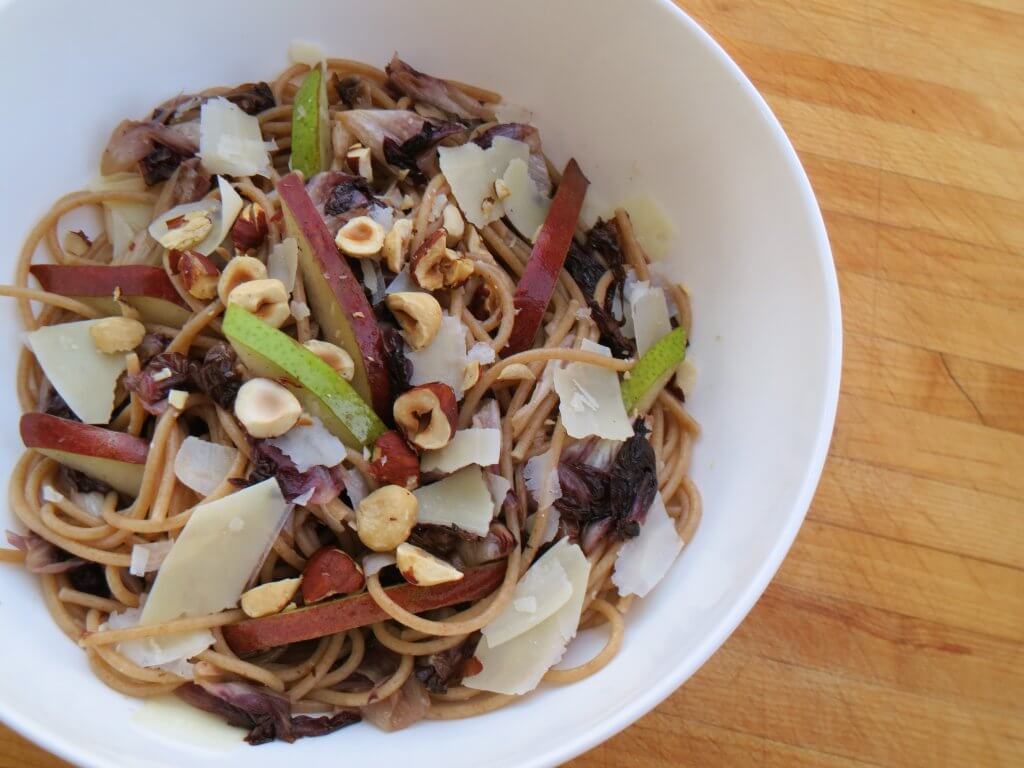 Whole Wheat Spaghetti with Pears, Radicchio and Brown Butter
Here is a simple weeknight pasta dish packed with flavor and color. The sweetness of the ripe pears plays wonderfully together with the bitterness of the radicchio. Adding tangy, rich Parmigiano-Reggiano cheese (get the real stuff for this recipe!) takes the dish to a whole new level. Serve this pasta as a meal in and of itself, or use it as a side dish for a simple roasted chicken.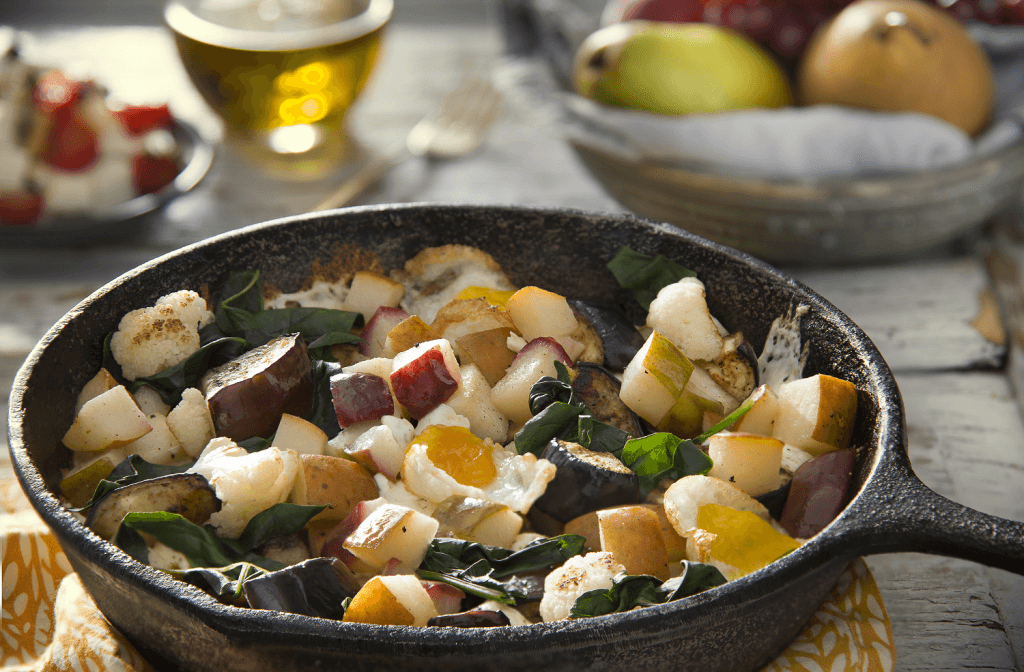 This light and simple vegetarian recipe is sure to delight even the pickiest eaters. It's also loaded with color and nutrition, with plenty of sweet and savory flavors that you might expect in a dish containing meat.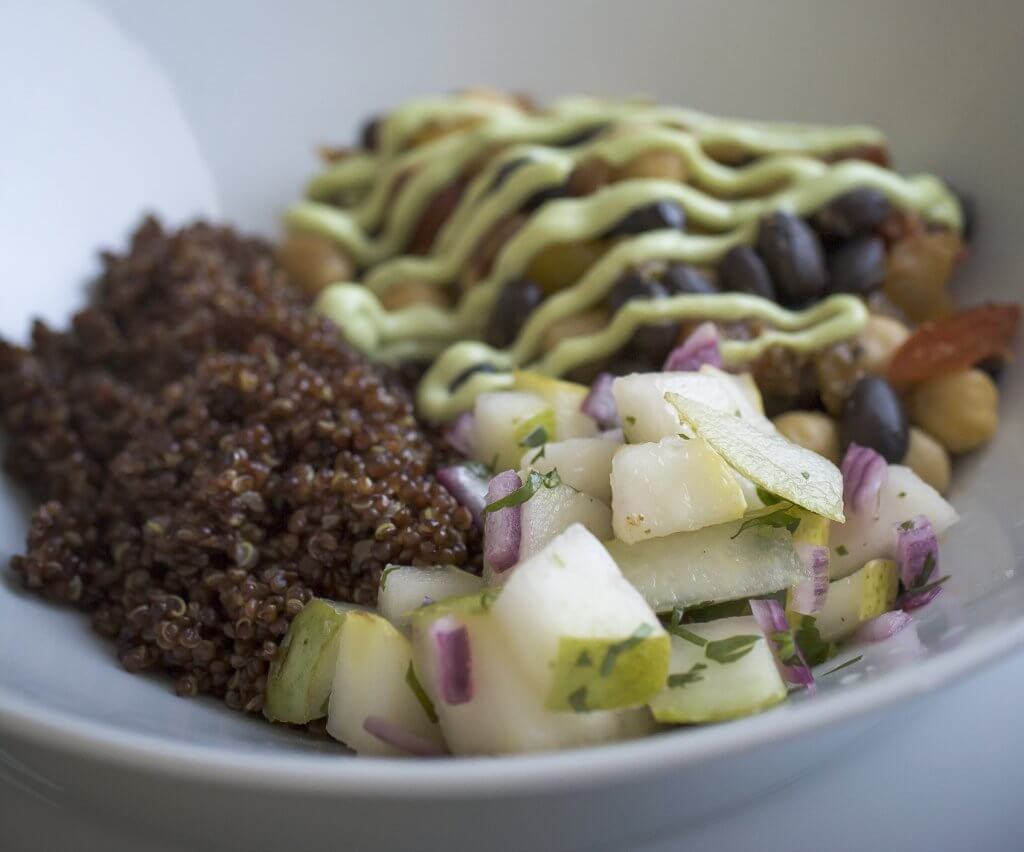 Vegetarian Taco Bowls with Anjou Pear Salsa & Avocado Crème
Tacos taken to a whole new meatless level! With delicious black beans, garbanzo beans and Roma tomatoes, sweetened with Anjou pear salsa and topped with an avocado creme – simply pear-fect!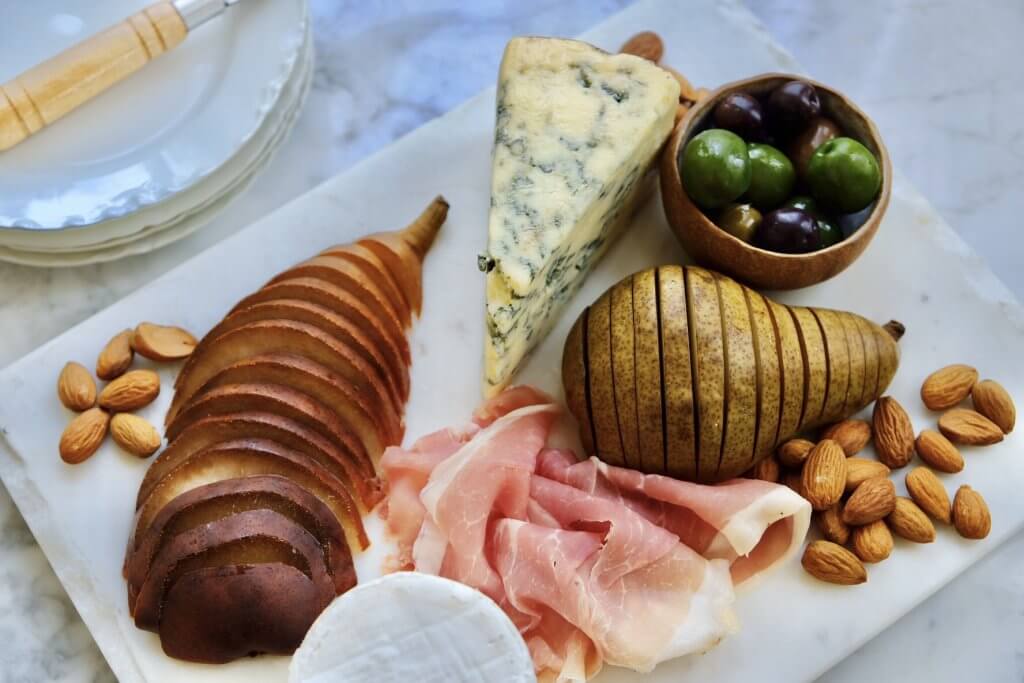 Yes, you can smoke fruit! All you need is a charcoal grill, wood chips, and a disposable aluminum pan—no special equipment required and no risk of setting off the smoke alarm in your kitchen. The truly exceptional thing about this technique is that you don't even have to get the grill out just to smoke the pears, since the pears are added to the grill after it's used to cook something else, when the coals turn to embers.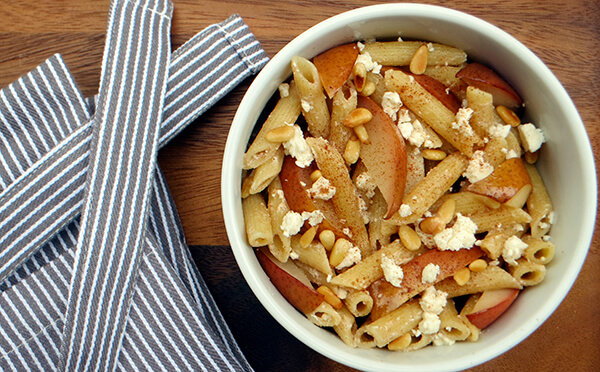 Roasted Pear Pasta with Cinnamon and Feta
Here is a wonderful, warming pasta dish full of unique flavors. Roasted pears, cinnamon, feta cheese, and toasted pine nuts make for a surprisingly delicious combination, and this meal comes together in a snap. You'll fill your kitchen with the aroma of sweet, roasting pears and spicy cinnamon before you get your first bite of this creamy pasta.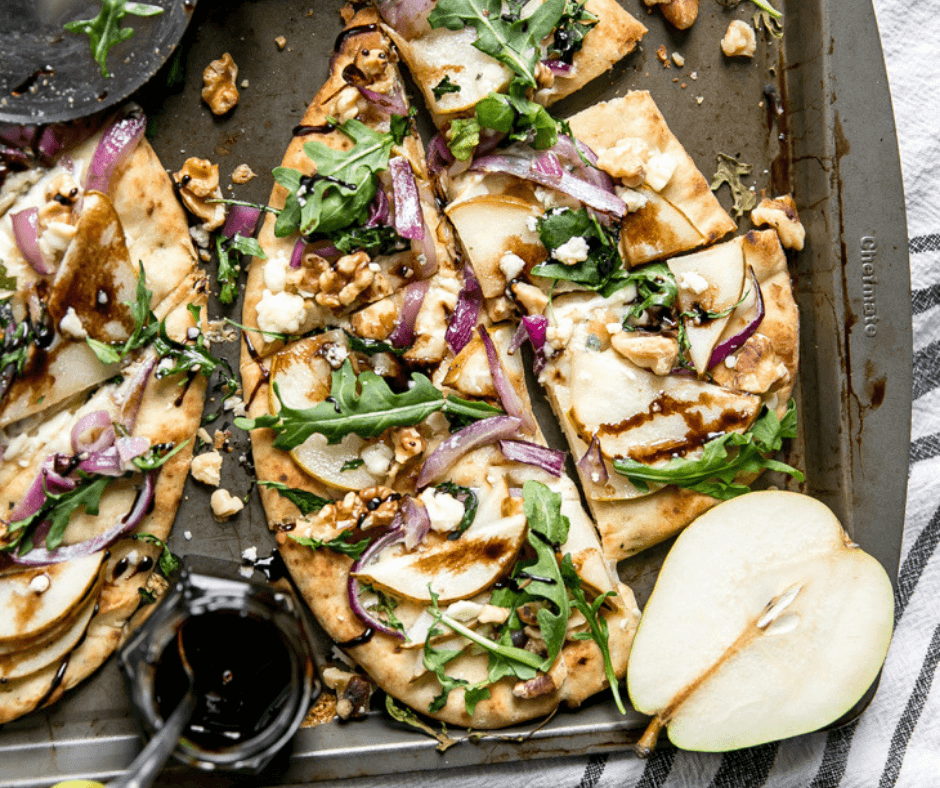 Pear and Walnut Flatbread with Gorgonzola, Arugula and Balsamic Glaze
This Walnut Pear Flatbread is so easy – made extra delicious with caramelized onions, Gorgonzola, and finished with balsamic glaze. It can also be gluten-free friendly.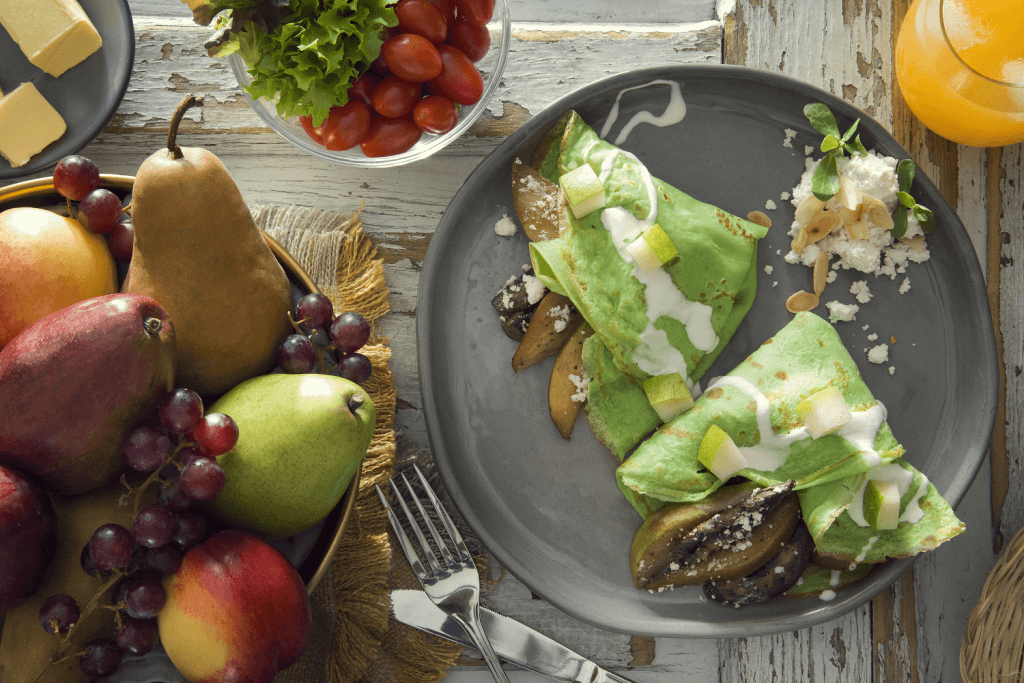 Add a huge dose of color, flavor and nutrition to your breakfast with these fun and tasty crepes that will put a vibrant spin on your first meal of the day. Spinach, mushrooms, eggs and pears also make this dish protein-forward and extra filling.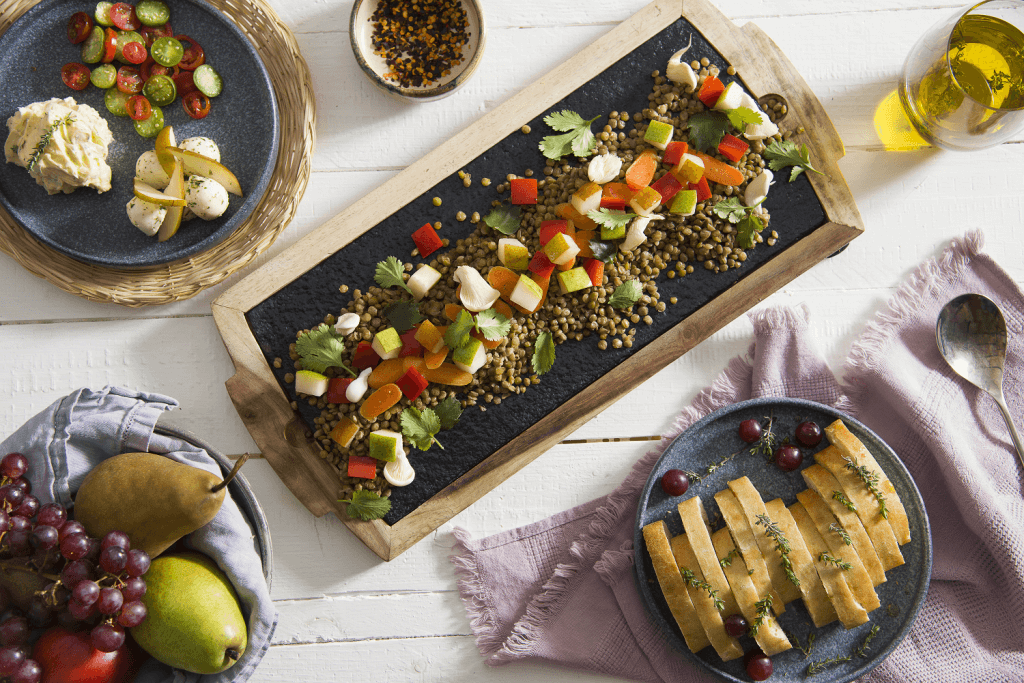 Lentils are all the rage right now, and for good reason! Just like pears, they contain plenty of fiber. They are also cheap and can be stored in your pantry. If you want a super easy and super healthy weeknight meal that is entirely plant-based and vegan, this is the one!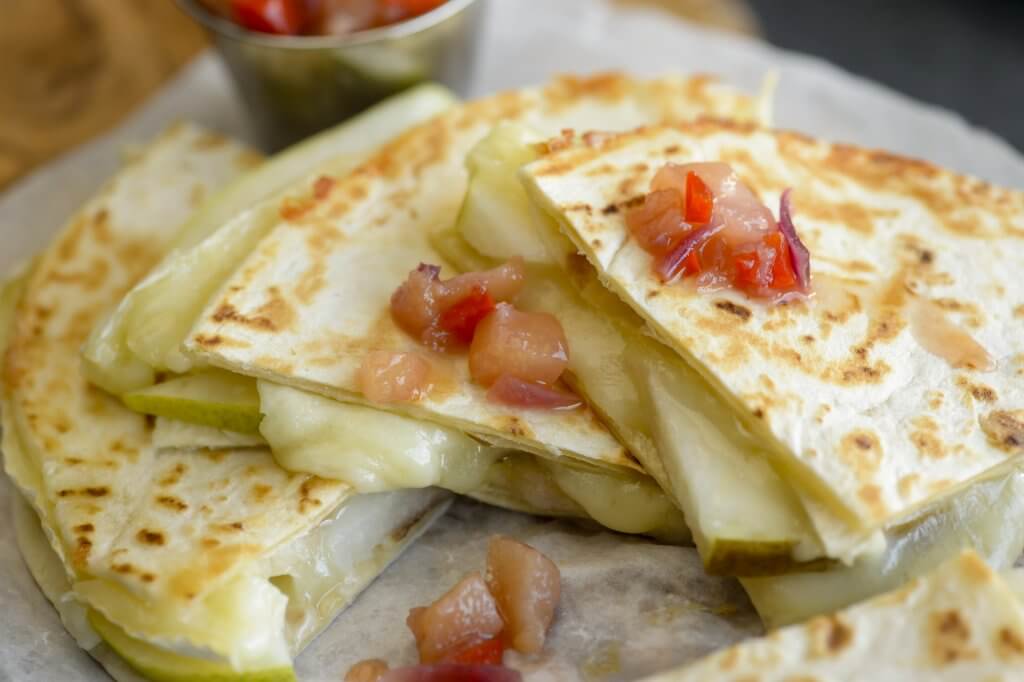 Pear and Brie Quesadilla with Fresh Pear Chutney
This tasty quesadilla combines fresh pears with both creamy brie and milky mozzarella on a grilled flour tortilla. You can improvise by swapping in pretty much any kind of meltable cheese. The subtle spice of the pear chutney is the perfect accompaniment to this deliciously unique interpretation of the traditional quesadilla.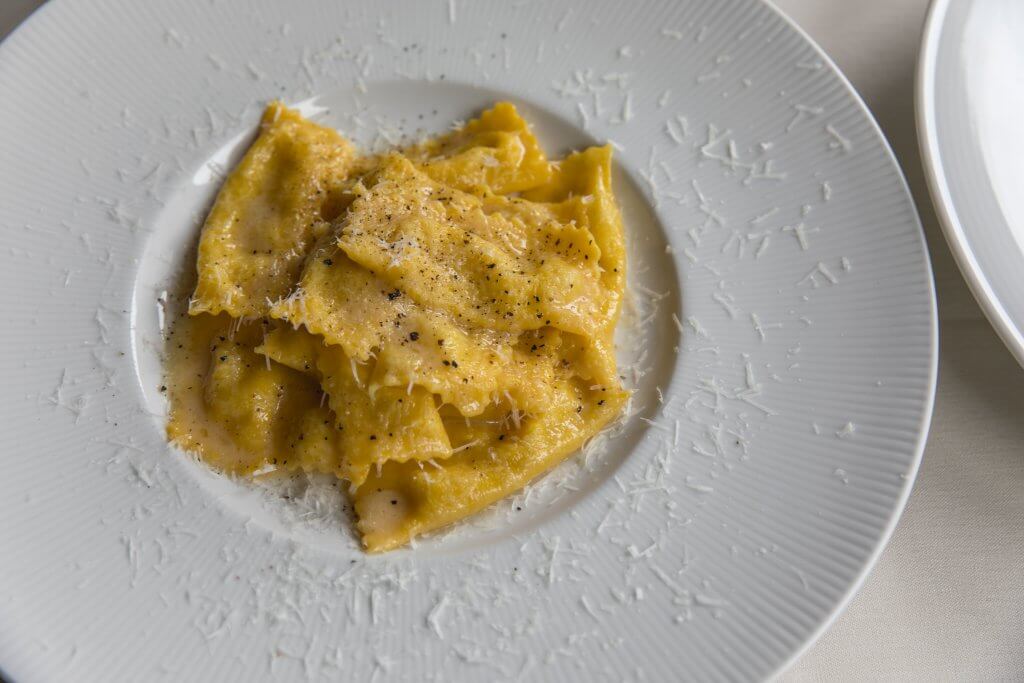 This delicate and quite simple ravioli is a lovely way to enjoy the affinity of pear and cheese. The filling is a lively blend of shredded ripe pear, shredded Pecorino Romano that has been aged for 3 to 6 months, Grana Padano, and mascarpone— just stirred together at the last moment.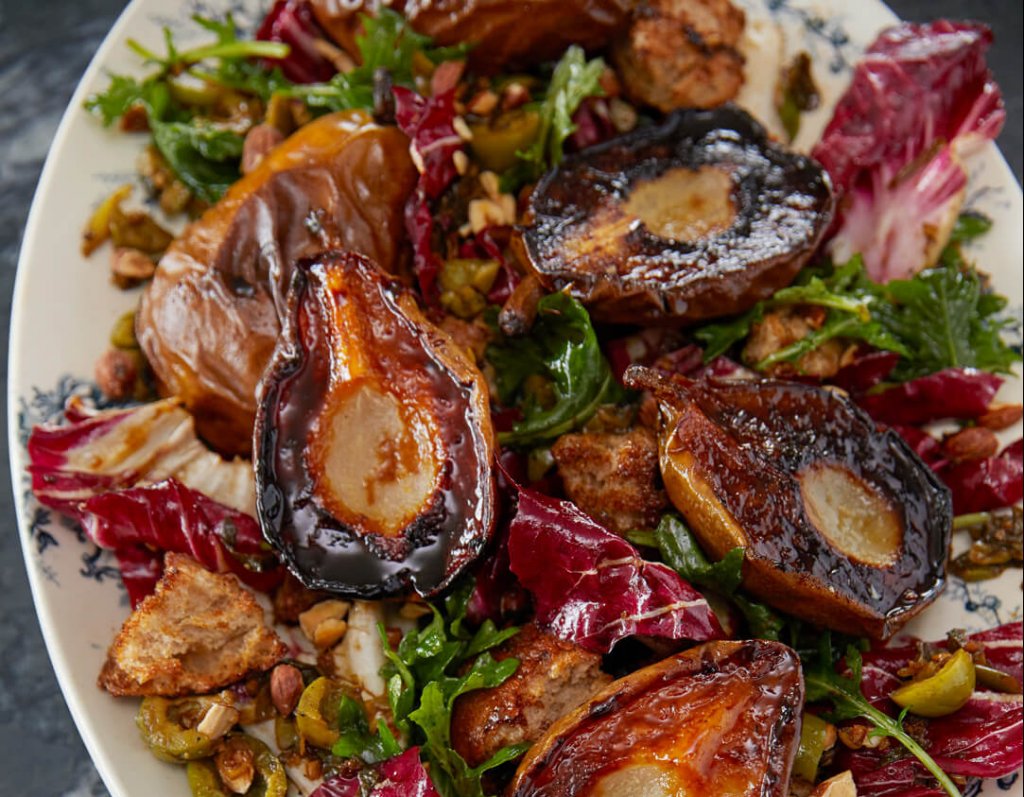 Cast-Iron Skillet Roasted Pears with Hearty Whole-Grain Panzanella
A good cast-iron pan works wonders on pears. When just-ripe Anjous are cut in half and seared in a hot skillet then placed in the oven, it brings out a rich and roasty caramelized flavor that renders the pears entrée worthy. They take on depth of flavor and luscious texture to make them a deliciously satisfying substitute for meat, whether you practice a vegetarian or vegan diet, or are just looking to reduce the amount of meat you consume.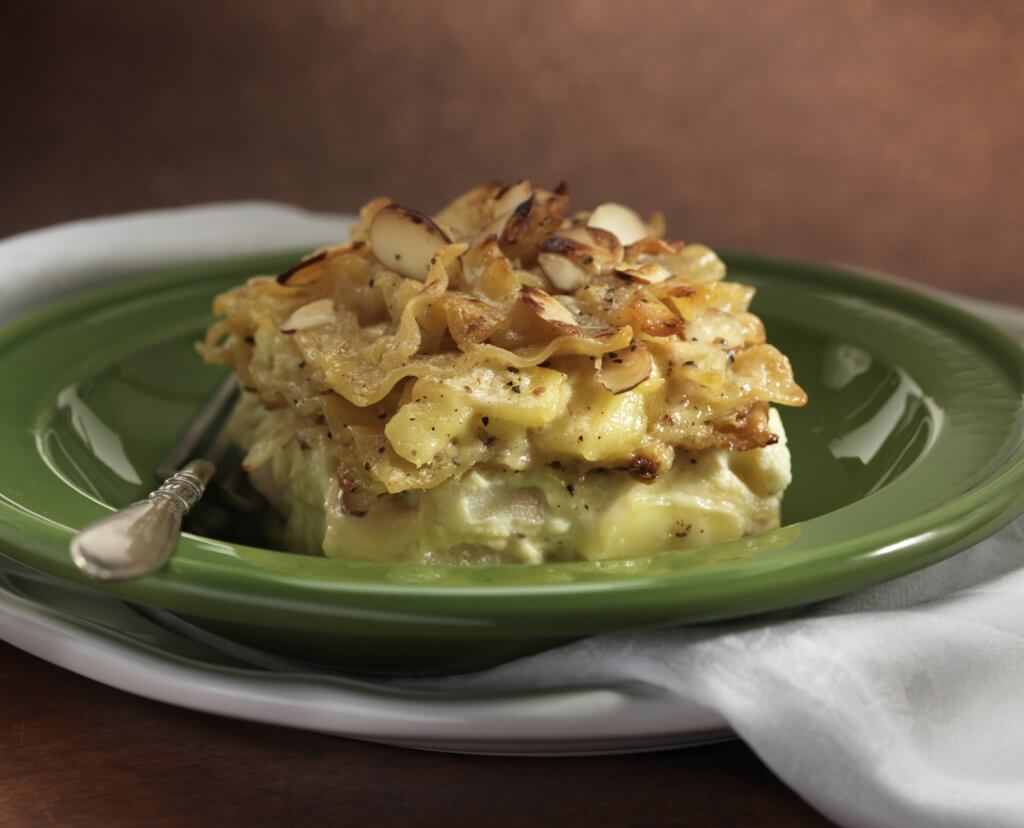 Bosc Pear Lasagna with Almonds and Brie
Try this fresh take on lasagna with creamy Brie cheese and dense, sweet Bosc pears. You can also use Anjou pears, and this meat-free combination of sweet and savory will take your taste buds to a new realm.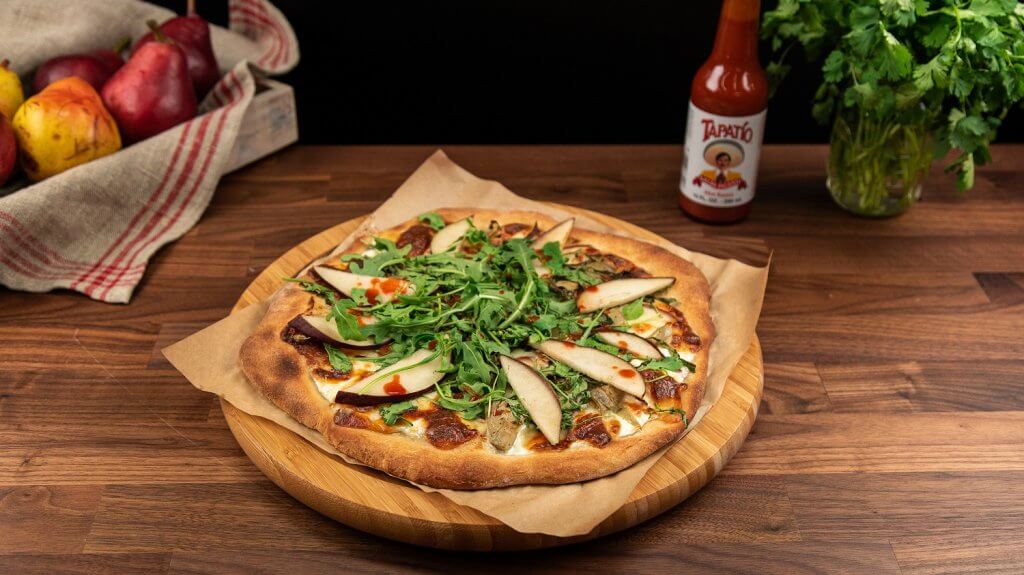 When leaves start to fall and seasonal fruits are in for the cooler temperatures, pears are the best fruit topping for a fall-inspired pizza. Then again, this recipe is sure to impress your friends and family any time of year! Finish it off with a drizzle of Tapatio and you got a staple recipe for this fall season.