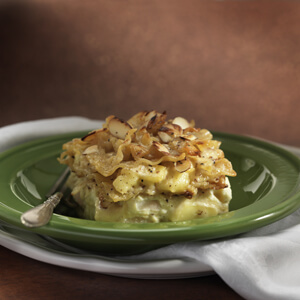 Bosc Pear Lasagna with Almonds and Brie
Try this fresh take on lasagna with creamy Brie cheese and dense, sweet Bosc pears.
INGREDIENTS
4 Bosc USA Pears, peeled, cored, and cut into ½-inch pieces
2 tablespoons ground anise, divided
4 cups white cream sauce (RECIPE)
12 uncooked lasagna sheets
2 pounds ricotta cheese
6 eggs
1 pound Brie cheese, divided
2 ¼ ounces toasted sliced almonds
Salt and white pepper, to taste
DIRECTIONS
Preheat oven to 350 degrees. Combine 1 tablespoon anise and ½ pound of Brie with cream sauce. Mix ricotta, eggs, remaining anise, and remaining brie. Season to taste. Combine pears with ricotta mixture.
Ladle 4 ounces of cream sauce into the bottom of a 9 x 11-inch baking pan. Layer the pan with 4 uncooked lasagna sheets. Top the lasagna with half of the pear and ricotta mixture. Top the pear and ricotta mixture with a third of the sliced almonds. Ladle 8 ounces of cream sauce on top of almonds.
Create a second layer of lasagna, alternating lasagna noodles, pear mixture, almonds, and cream sauce. Layer top of lasagna with final 4 sheets of pasta. Cover with remaining cream sauce (make sure all pasta sheets are covered with sauce). Cover baking dish with lid or aluminum foil and bake for 30 minutes.
Top lasagna with remaining almonds and bake an additional 15 minutes. Let lasagna cool for 5 minutes before slicing and serving.
NUTRITION
Calories: 990
Carbohydrate: 30g
Dietary Fiber: 5g
Protein: 42g
---
4 Comments » for Bosc Pear Lasagna with Almonds and Brie