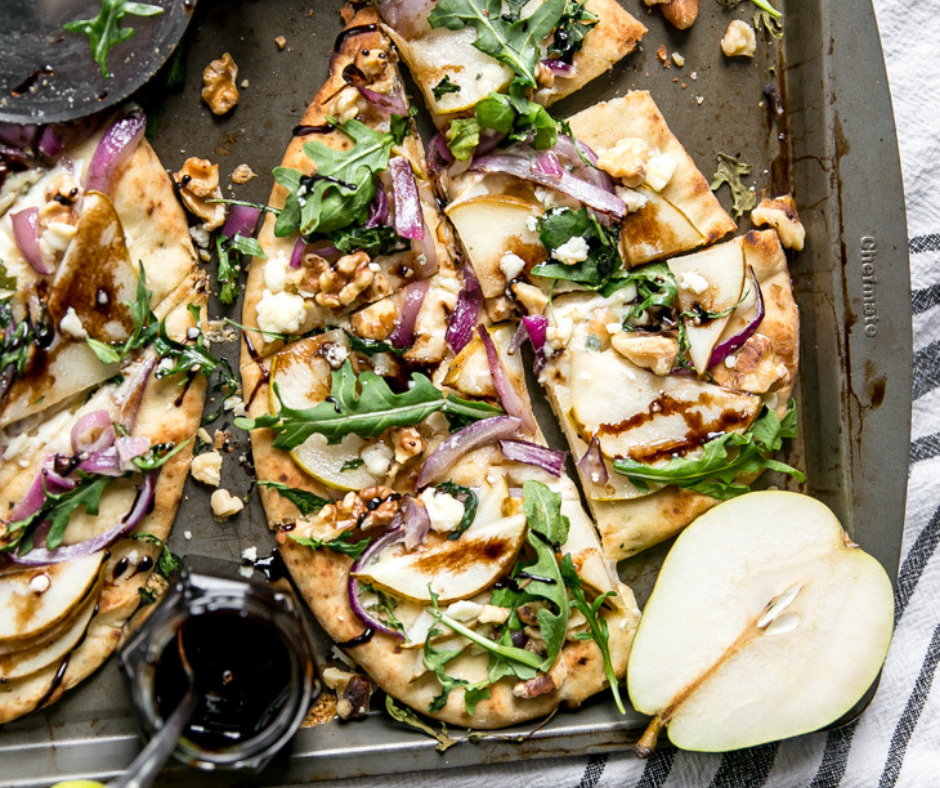 Pear and Walnut Flatbread with Gorgonzola, Arugula and Balsamic Glaze
This Walnut Pear Flatbread is so easy – made extra delicious with caramelized onions, Gorgonzola, and finished with balsamic glaze. It can also be gluten-free friendly. Recipe by Fit Mitten Kitchen.
INGREDIENTS
PEAR FLATBREAD
12oz pizza dough or naan flatbread
1 small red onion, sliced
1 medium pear, thinly sliced
1/4 cup crumbled gorgonzola
1/4 cup chopped walnuts
arugula
BALSAMIC GLAZE
1 cup balsamic vinegar
1/4 cup brown sugar or coconut sugar
DIRECTIONS
Prepare dough as needed if making homemade. Preheat oven to 400ºF and line baking pan with parchment paper. Pre-bake rolled out dough for 10 minutes if using homemade.
Start making the balsamic glaze: In a small saucepan bring vinegar and sugar to a boil; reduce to simmer and stir frequently until mixture has reduced by half. Mixture is done when glaze coats back of spoon. Remove from heat and let cool before storing in jar.
Meanwhile, heat medium skillet over medium heat and add oil to pan once hot. Add thinly sliced onions, stirring frequently until translucent and fragrant. Add thinly sliced pears to the skillet to soften just slightly – about 2 minutes.
Place onions and pear slices on flatbread, add crumbled gorgonzola and chopped walnuts. Bake pizza at 400ºF for 10 minutes. Top with arugula and finish with balsamic glaze.
NUTRITION
Serving Size: 1 Flatbread (205g)
Calories: 410
Fat: 10g
Carbohydrate: 68g
Dietary Fiber: 4g
Protein: 12g