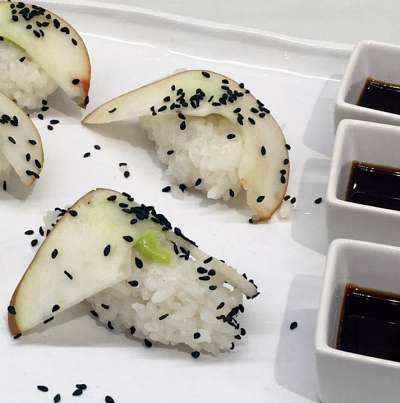 A sweet and spicy twist on a traditional recipe using fresh Seckel or Bosc pears to make a delicious appetizer or snack - Pear Fruishi simply pear-fect! Developed by Andrea Slonecker.
INGREDIENTS
2 cups uncooked sushi rice
2 1/2 cups water
1/2 cup coconut milk
1/2 cup granulated sugar
1/2 teaspoon sea salt
Cooking spray
Wasabi paste
3 seckel pears or 2 bosc pears, halved, cored, and thinly sliced lengthwise
3 tablespoons black sesame seeds
DIRECTIONS
Rinse rice until water runs clear. Soak rinsed rice in water for 30 minutes before cooking.
Drain the rice and transfer it to a medium saucepan. Cover with the 2 1/2 cups fresh water and bring to a boil over high heat. Reduce the heat to maintain a gentle simmer, and cook until most of the water is absorbed, about 15 minutes. Remove the pot from the heat and set aside, still covered, for 15 minutes. (The rice can also be cooked in a rice cooker.)
In a large bowl, combine the cooked rice, coconut milk, sugar, and salt, and toss gently with a fork. Cool until room temperature or just barely warm.
Lightly coat hands with cooking spray. Shape the sticky rice into about 20 ovals (about 1 1/2 tablespoons each) by squeezing and rolling it together in your palm. Place the ovals onto a serving platter. Top each with a small dab of wasabi paste. Drape a pear slice over the top and sprinkle with sesame seeds. Serve with soy sauce for dipping.
NUTRITION
Serving Size: 2 Frushi (183g)
Calories: 260
Carbohydrate: 52g
Dietary Fiber: 2g
Protein: 4g