By
Cara Rosenbloom, RD
As a Canadian nutrition professional, you're always on the lookout for food-based solutions to everyday client issues such as heart disease prevention and a healthy gut microbiome. Look no further than USA Pears!
Fruit is a cornerstone of plant-based diets, and pears make a nutritious and versatile addition to many meals and snacks. As a whole food, pears stand out as an excellent source of fibre, and are associated with a lower risk of heart disease, type 2 diabetes and better gut health due to their unique mix of nutrients.
This article will be your deep dive into the nutrition facts and clinical research about pears, so you can confidently share recipes and tips with others.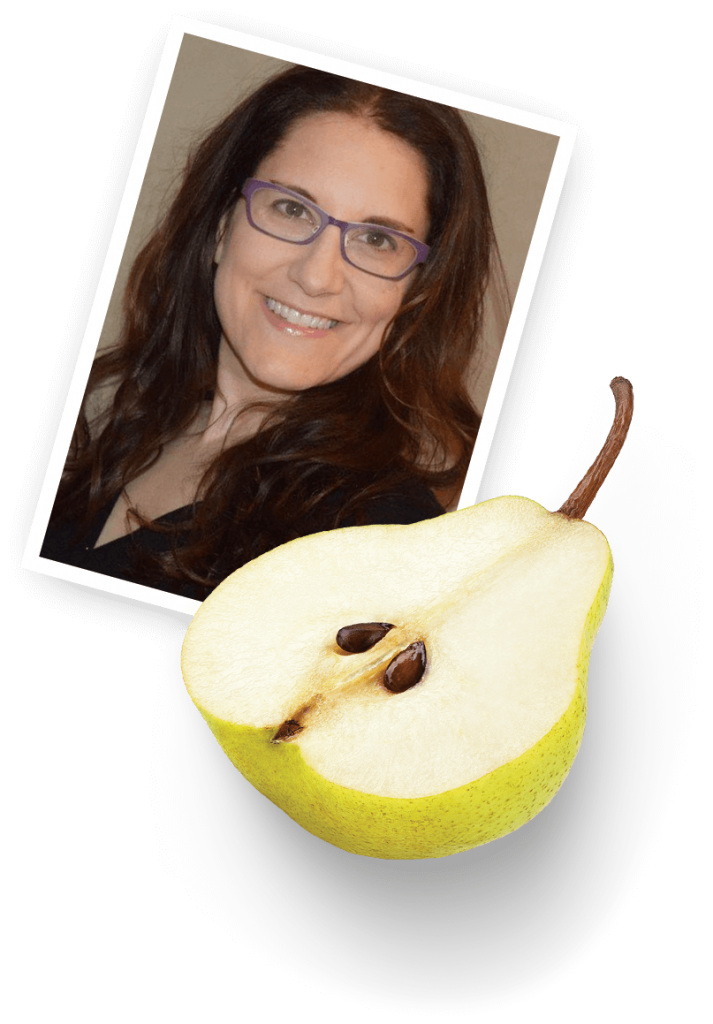 ---
Pear Nutrition
Pears are an excellent addition to a balanced dietary pattern. According to the Canadian Nutrient File, a 100-calorie medium-sized pear has:
18% DV fibre
7% DV vitamin C
3% DV potassium1
Several antioxidants including flavonoids, catechins and terpenoids2
Pears rank higher than almost any fruit when it comes to dietary fibre, with five grams per 140 g pear. They contain both insoluble and soluble fibre (including pectin), and this range of fibres means that pears are good for heart health, gut health and laxation.3
Neat fact: Pears contain 71% insoluble fibre and 29% soluble fibre4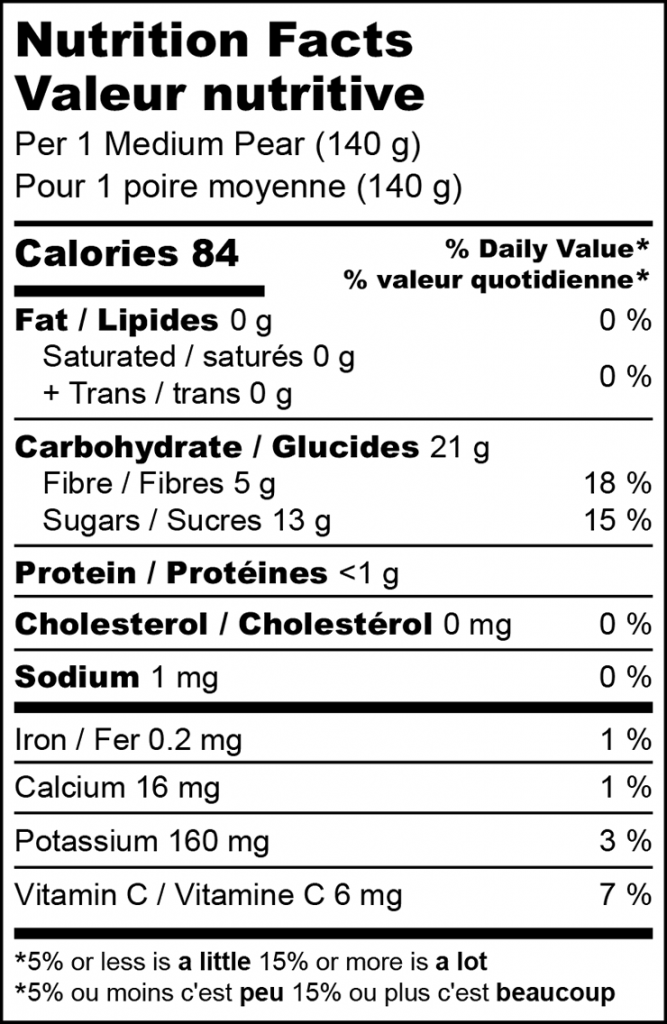 ---
Health benefits of pears
There have been numerous peer-reviewed clinical studies on the health benefits of pears. Notably, several meta-analyses have really shown the nutritional power of this super fruit:
A 2019 meta-analysis found that pear intake significantly decreased risk of cerebrovascular disease, cardiovascular death, type 2 diabetes, and all-cause mortality.5
A 2017 systematic review and meta-analysis looked at the relationship between different vegetables and fruits (including pears) and the risk of heart disease and mortality. The studies showed an inverse association between pears and the risk of stroke, cardiovascular disease and all-cause mortality.6
Another 2017 meta-analysis found that eating pears was associated with 18 percent reduction in the risk of developing type 2 diabetes.7 Interestingly, each additional pear that was eaten was linked to a three percent reduction in type 2 diabetes risk.
The health benefit from pears is likely due to their unique food matrix. Certainly, the soluble and insoluble fibre is part of the health benefit. Fibre may help reduce serum cholesterol and blood pressure levels, and research links a deficiency in fibre as a contributing factor to cardiovascular disease.8
Pears also contain a variety of antioxidants that are linked to heart health. Catechins, a type of naturally occurring flavonoid antioxidant, are shown to help reduce blood pressure, vasodilation and the risk of atherosclerosis.9 Studies show people who have more flavonoids antioxidants in the diet have an 18 percent risk reduction for cardiovascular disease mortality.10
Neat fact: Pears provide between 38 and 57 mg of phenolic antioxidants per 140 g.11
In addition to heart health, pears are also associated with improved gut health. Pears contain prebiotic fibres, which stimulate growth of probiotics in the gut microbiota and provides health benefits.12
Pears also contain the unique sugar alcohol called sorbitol, which pairs with fibre to account for the known laxative properties. Sorbitol is not well-digested, so it helps ease bowel movements.13
---
Pear varieties
All pears are nutritious and delicious! Here's some information about USA Pears that are readily available in Canada.
| | Green Anjou | Red Anjou | Bosc |
| --- | --- | --- | --- |
| Season | October to July | October to July | September to April |
| Flavour | Refreshingly sweet and juicy with a hint of citrus | Fresh, sweet, juicy and slightly tangy | Crisp and woodsy with a honey-sweetness |
| When ripe they are | Soft and juicy | Soft and juicy | Crisp |
| Culinary uses | Great for salads, cooking, baking and pureeing for sauces | Perfect for raw applications like salads and snacks | Retain their shape and texture better than other varieties: great for baking, broiling and poaching |
| Ripening notes | Ripen at room temperature, then refrigerate. They do not change color as they ripen; they will stay green. | Ripen at room temperature, then refrigerate. These pears show only slight change in color as they ripen and become more red/maroon. | Ripen at room temperature, then refrigerate. Boscs are sweeter and more flavorful earlier in the ripening process and can be enjoyed before their flesh has fully softened. |
---
Popular Pear-ings
What pairs well with pears? Many things! This chart shows the fastest growing pear pairings, which include lemons, apples and walnuts. But don't let that cap your creativity!
Pears are versatile and can be used raw or in cooking, baking, jams and preserves. They can even be made into a pear purée and be used for sauces, loaves, smoothies and salad dressing.
Here are some ideas for using freshly sliced pears in meals and snacks:
Atop whole-grain toast with cheese – try this version with ricotta, pistachios and honey
Wrapped with prosciutto
Spread with nut butter or make these dips
Partnered with blue or aged, hard cheeses
Dipped into vanilla Greek yogurt
Sprinkle with cinnamon
On salad – try this pear and lentil salad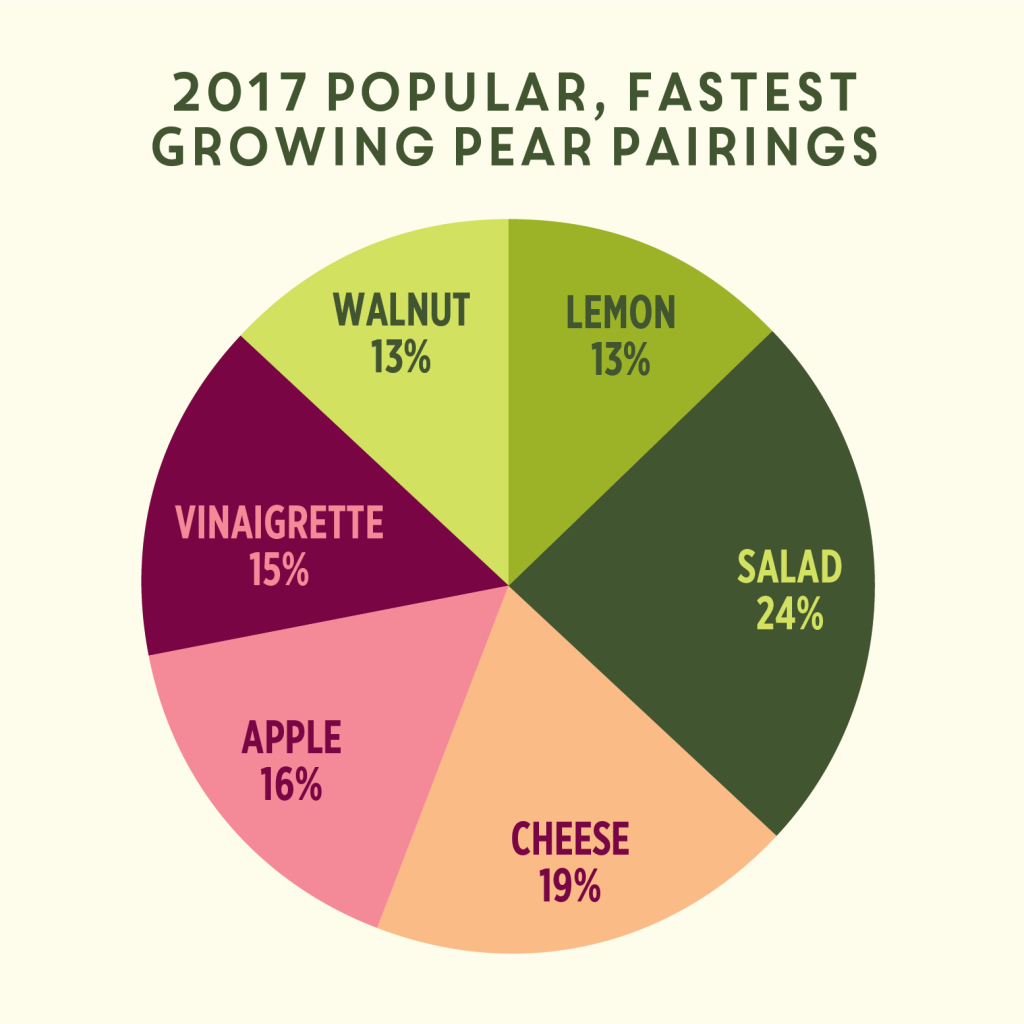 Ready to cook and bake with pears? The possibilities are endless, but here is some inspiration to get you started:
Pears have thick peels containing pectin, which is gel-like and often used in jam-making.14 Pears are the perfect fruit to use for making jam due to their natural pectin. Here's a recipe for pear jam.
---
Helpful tips for clients
Pears are a great addition to a balanced dietary pattern. If you are offering advice to your clients, share these good-to-know facts too:
When buying pears: Interestingly, pears are one of the few fruits that do not ripen on the tree. Instead, they are harvested when mature but not yet ripe, and then they ripen from the inside out at room temperature. So how do you know when they are ripe and ready to eat? Check the Neck. The pear is ripe when the neck is soft to the touch.
When storing pears: After the pear is ripe, put it in the fridge to stop the ripening process. But remember, don't put unripe pears in the fridge – they won't ripen there! Once ripe, pears store well for a few weeks in the fridge.
When enjoying pears: Remind your clients not to peel the pears, since a lot of the vitamins and antioxidants are concentrated in the pear peel. Peeling decreases vitamin C and antioxidant content by 25 percent. Have an overripe pear? Use it in a smoothie or puree it into a sauce or salad dressing.
---