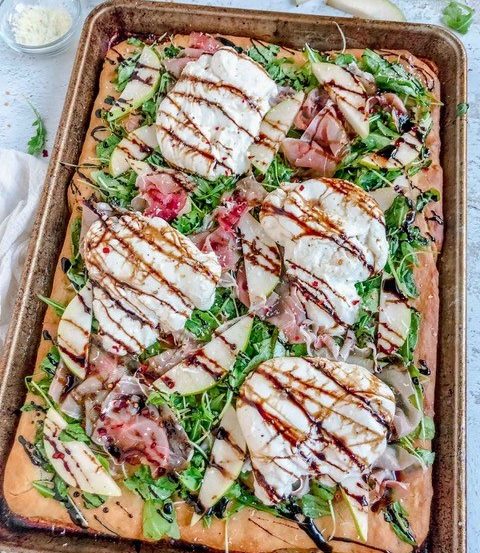 Pear, Prosciutto and Burrata Pizza
This pizza is loaded with ALL the goods but the real star is the pear! It's the perfect topping - its mild sweetness contrasts with the salty prosciutto and adds a great bite against the creamy burrata. Recipe and photography by Jessica Do (@balancewithjess).
INGREDIENTS
1½ c warm water (110F)
2¼ tsp active yeast
½ tsp brown sugar
½ tsp garlic powder, basil, & oregano each
1 tsp salt
3 tbs olive oil
3-3½ c AP flour
½ c balsamic vinegar
1 tbs brown sugar
3 large handfuls arugula
16 oz burrata cheese
1 Anjou pear, sliced
5 oz prosciutto
DIRECTIONS
1. Combine water, yeast and brown sugar. Let proof 10 minutes.
2. In a stand mixer, mix garlic powder, basil, oregano, salt and olive oil. Add yeast mixture and 3 cups flour. Knead 5-10 minutes, adding more flour if needed. Place dough in a well-oiled bowl and let rest 1 hour.
3. Punch dough down. Form a tight ball on counter and let rest another 10 minutes.
4. Stretch to desired shape and let rest another 10 minutes. Meanwhile, preheat oven to 450F. Bake dough for 15-20 minutes until lightly golden brown.
5. Meanwhile, make the balsamic glaze. Simmer balsamic and brown sugar on medium for 10 minutes until reduced and syrupy.
6. Top the pizza with half the prosciutto and half the pear. Bake 5-6 minutes to let prosciutto get crispy.
7. Season arugula with salt and pepper and toss with olive oil. Place on top of the pizza, followed by torn burrata, remaining prosciutto and pear. Drizzle balsamic vinegar. Serve immediately.
NUTRITION
---
2 Comments » for Pear, Prosciutto and Burrata Pizza