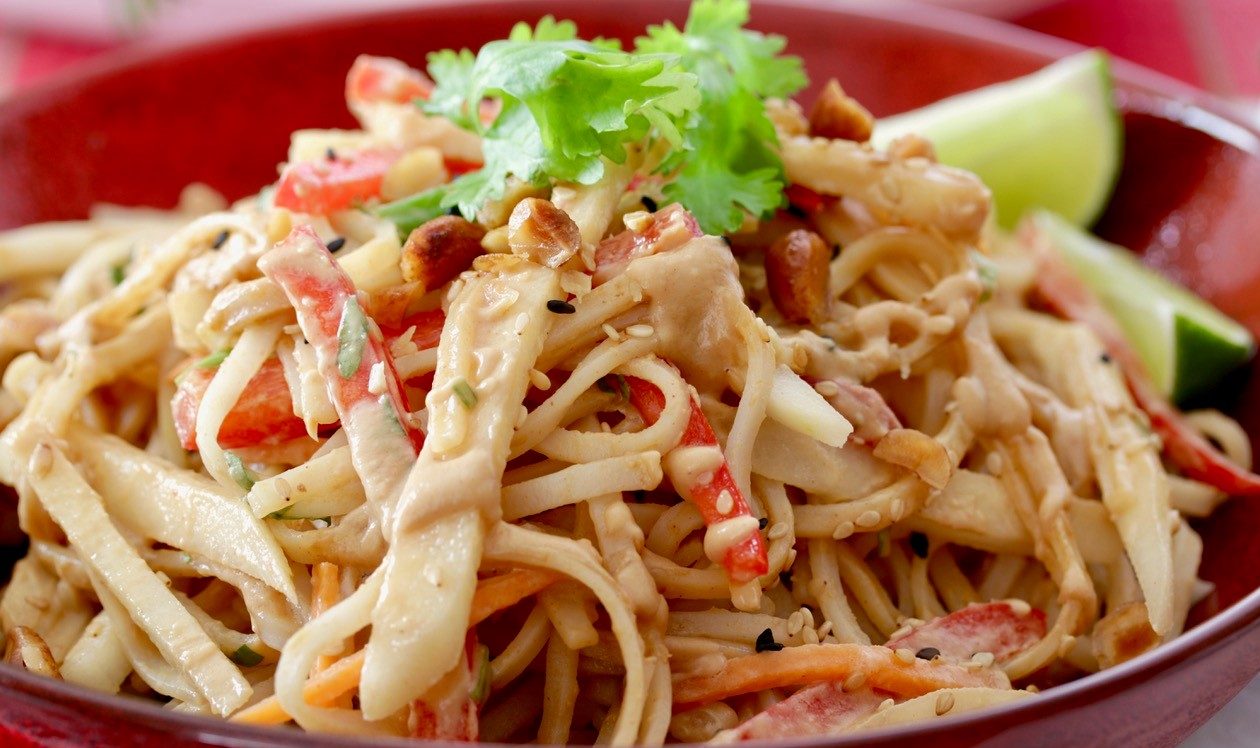 This Thai inspired pear noodle salad checks off the boxes for authentic Asian flavors. It's crispy, crunchy, salty, sweet and tangy and in the time it takes to boil some noodles it's ready to go. Recipe and photography by Good Grief Cook.
INGREDIENTS
Peanut Dressing
½ cup smooth peanut butter
¼ cup warm water
¼ cup rice vinegar
2 tablespoons honey
1 teaspoon soy sauce
1 teaspoon Thai fish sauce
1 teaspoon grated fresh ginger
½ teaspoon Thai red curry paste
Pear Pad Thai Salad
2 firm ripe USA pears, julienned (do not peel)
2 tablespoons fresh lime juice
8 ounces pad Thai noodles, rice ramen noodles or soba noodles
1 tablespoon toasted sesame oil
1 red bell pepper, julienned
1 carrot, julienned
¼ cup thinly sliced scallions including some of the bright green
2 tablespoons chopped cilantro, plus additional for garnish
¼ cup chopped roasted peanuts
2 teaspoons toasted sesame seeds
DIRECTIONS
In a bowl, whisk all the Peanut Dressing ingredients together until well blended; set aside.
In another bowl, toss pears with lime juice; set aside.
Cook noodles according to package directions. Drain noodles.
In large bowl, toss noodles with sesame oil and ¼ cup of dressing.
Add pears, including the lime juice, bell peppers, carrot, scallions and cilantro; toss to combine.
Pour remaining dressing over salad; toss again.
Sprinkle with peanuts and sesame seeds. Garnish with cilantro. Serves 6.
NUTRITION
Serving Size: 1 Salad (230g)
Calories: 370
Fat: 18g
Carbohydrate: 48g
Dietary Fiber: 10g
Protein: 12g