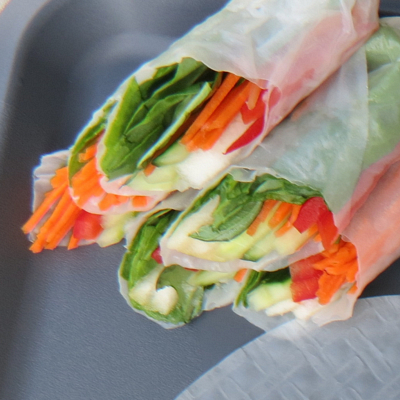 Pear and Fresh Vegetable Summer Rolls
These colorful and refreshing summer rolls aren't just beautiful, they are absolutely delicious! You can use any variety of vegetables and herbs to fill the rolls, not just those I've mentioned here. Use firm pears for filling the rolls - they add just the right amount of sweetness along with a unique crunch. It takes a little practice to get the hang of working with the spring roll skins, but once you've got it down, you'll be wanting to make fresh rolls all summer long.
INGREDIENTS
Several handfuls spinach leaves, stems trimmed

Half an English cucumber, cut into long, thin strips

1 large carrot, grated or cut into a fine julienne

1 sweet pepper, cut into long thin strips

2 firm USA pears, such as Anjou, sliced julienne style

Several sprigs fresh basil

12 spring roll skins

Your favorite peanut sauce or sweet chili sauce for dipping
DIRECTIONS
Prepare all of the vegetables first and place them in small dishes around your work area. Julienne the pears last to delay browning, and place them at your workstation as well.
Moisten one spring roll skin by running it under cold water for about 5 seconds on each side. While the skin is still firm, transfer it to your work surface. Do not allow the skin to get too flexible before you place it on your work surface or it will be difficult to work with.
Fill the roll by layering several spinach leaves across the center, leaving about one inch of open space on both sides. Top with the sliced vegetables, then the pears, and finally with a few basil leaves.
By now the wrapper will be pliable. Starting at the bottom, carefully roll the summer roll up like a burrito, wrapping the ends in about halfway through your roll. Place the completed roll on a platter, and repeat the process until you are out of ingredients. Do not stack the rolls, as they can become quite sticky. Once all of the rolls are completed, slice them on a diagonal with a serrated knife, arrange, and serve with your favorite dipping sauce.
NUTRITION
Serving Size: 1 Spring Roll (80g)
Calories: 80
Carbohydrate: 18g
Dietary Fiber: 2g
Protein: 1g