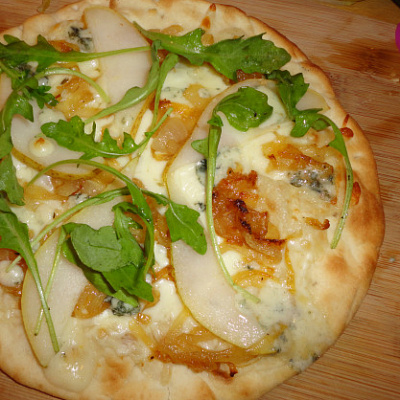 Grilled Pizza with Pear Prosciutto Cheese and Caramelized Onions
Grilled Pizza with Pear, Prosciutto, Cheese and Caramelized Onions make creative toppings that are sure to please, particularly when the weathers nice outside
INGREDIENTS
1 Ready made pizza crust
2 tbsp Extra virgin olive oil
 2 Large onions, peeled and thinly sliced
 ½ tsp Sugar
 2 cups Shredded mozzarella cheese
 2 Ripe unpeeled Bosc pears, thinly sliced
 ¼ cup Freshly grated Parmesan cheese
 8 Slices prosciutto, cut each piece in half or thirds
 Sprinkling fresh rosemary leaves and fresh arugula
DIRECTIONS
For crust:
Divide pizza dough into 4 pieces (or 16 pieces for appetizers). Roll or stretch out thinly.  Do not worry if crusts are uneven in shape.  Brush both sides with extra oil.
Grill crusts for 1 minute per side. Place grilled crusts in a single layer on baking sheets or pizza stone scattered with cornmeal.
For toppings:
To caramelize onions, heat the olive oil in a large frying pan over medium-low heat. Add the onions and cook, stirring frequently, for about 25 minutes, or until onions are soft and golden brown. Add the sugar and cook for 5 minutes longer.
Preheat oven to 450 F (225 C). Place the pizza crusts on a baking sheet and top with the onion, mozzarella pears, and then prosciutto. Sprinkle with the Parmesan.
Bake for about 10 minutes or until cheese is melted and crust is golden brown. Sprinkle with rosemary and fresh arugula. Let cool slightly. Cut into wedges.
Makes 4 entree servings or 16 appetizers
NUTRITION
Serving Size: 1 Small Pizza (365g)
Calories: 680
Carbohydrate: 70g
Dietary Fiber: 6g
Protein: 39g