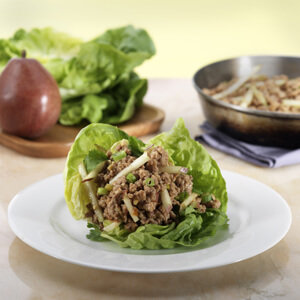 Chicken and Crunchy Pear Lettuce Wraps
These lettuce wraps put a fresh, modern spin on a favorite Asian appetizer. Spiced with chili sauce, ginger, and garlic, this dish will leave you craving more!
INGREDIENTS
1 tablespoon cornstarch
2 tablespoons peanut oil
1 tablespoon minced garlic
1-½ tablespoons grated gingerroot
6 scallions, thinly sliced, green and white parts separated
1 pound ground chicken, dark meat
1 tablespoons chili sauce
2 tablespoons hoisin sauce
2 tablespoons soy sauce
1 USA Pear, such as Red Anjou or Bosc, peeled, cored and cut in matchsticks
Toasted sesame oil to taste
12 large tender lettuce leaves, such as bib, butter, or red leaf
Cilantro sprigs
DIRECTIONS
In a small bowl, mix the cornstarch with 3 tablespoons of water to form a smooth paste and set aside.
Warm the peanut oil in a skillet or wok over medium high heat. Add the garlic, ginger, and white parts of the scallion and stir-fry until fragrant, 2 to 3 minutes. Add the chicken and cook, stirring frequently until it breaks into small pieces and is no longer pink, about 8 minutes.
Add the chili sauce, hoisin, and soy sauce, stirring to combine and evenly distribute the ingredients. Add the reserved cornstarch slurry and stir until the sauce is clear. Finish with the reserved scallion greens, pear matchsticks, and a splash of sesame oil.
To serve: Place a heaping tablespoon of filling in the middle of a lettuce leaf with a few cilantro leaves, if desired. Wrap the lettuce around the contents and eat.
NUTRITION
Serving Size: 1 Lettuce Wrap
Calories: 340 (31% Calories from Fat)
Carbohydrate: 17g
Dietary Fiber: 3g
Protein: 22g