Can you feel it in the air? Summer is winding down and the coolness of fall is slowly approaching. That can mean only one thing: pear season is here! Starting in August and stretching into September, hard-working growers and pickers throughout the four pear growing regions in Oregon and Washington take to the orchards to hand pick all ten varieties of pears. These pears then get packed by hand and shipped to stores across North America, where they wait for you to pick them up and take them home. That's when the real fun begins! With Northwest pear season quickly approaching, here are eight reasons to get excited and celebrate all things pears!
10 Varieties and delicious flavors
OK, so you've probably tried the Bartlett pear with its sweet and classic pear flavor, the refreshingly juicy with a hint of citrus Anjou, or maybe even a crisp and woodsy Bosc with honeyed sweetness. But those are only three out of ten Northwest pear varieties! Take your taste buds on a delightful adventure and try other varieties, such as the aromatic and floral Starkrimson, the succulent and buttery Comice (aka the Christmas pear!), or the crunchy and vanilla-tasting Concorde. Each pear has a distinct, one-of-a-kind flavor. You know how in Pokemon they say gotta catch 'em all? The same can be said for pears!
Support hard-working pear growers
Whether it's a farmer or a chef, it's important to know where your fruit comes from and who actually produces it. Across the Pacific Northwest states of Oregon and Washington, there are over 800 pear grower families, many of whom are fourth generation. Along with their staff, these growers toil away year-round in their orchards, constantly making horticultural tweaks in order to ensure they are harvesting the best quality pears in the world. All of these folks are dedicated to making sure you get to enjoy sweet and juicy pears, and you can taste the passion and pride of Northwest pear growers in every bite.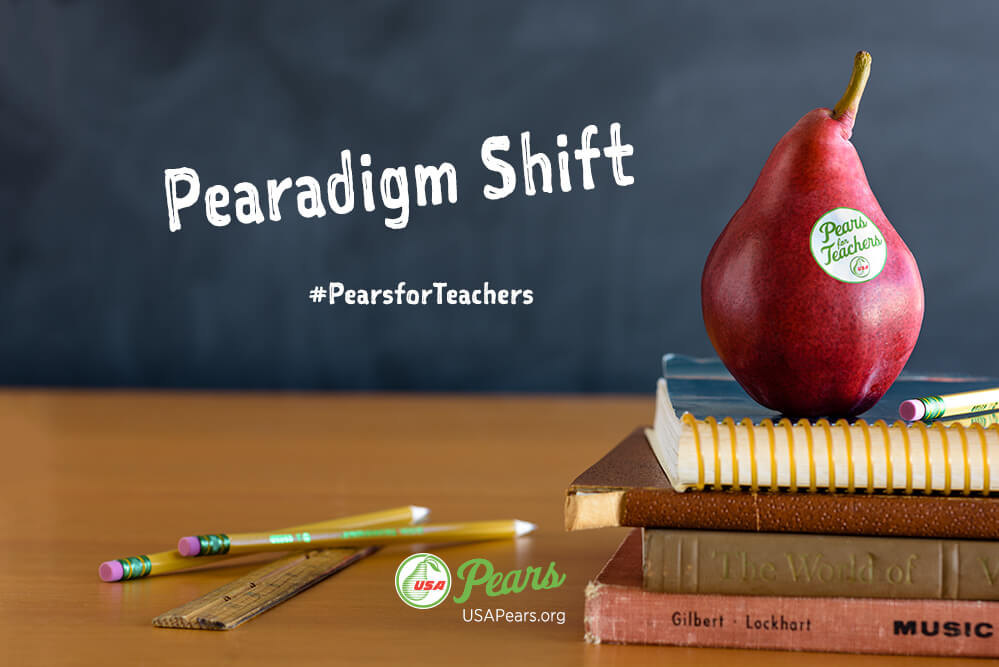 Just in time for back-to-school
An apple for the teacher? Why not a pear?! Pear season tends to kick off right around the time when teachers and students are heading back to school. With each variety offering a unique (better than candy!) flavor, as well as 6 grams of fiber, pears make a perfect lunchbox staple. Whether eaten on their own or sliced up alongside a cheese stick, crackers, peanut butter, hummus or yogurt, they are sure to bring energy and enjoyment to even the longest school day.
Breakfast!
Speaking of back-to-school, pears can be a part of a quick and easy breakfast that is both filling and flavorful. From smoothies, yogurt, and oatmeal to more decadent fare like muffins, Dutch babies, popovers, and crumbles, pears are super versatile in tons of breakfast recipes.
Shoppable pear recipes
Not to brag or anything, but we have over 400 recipes on our website, which is the highest concentration of pear recipes in one spot anywhere. Pears are incredibly versatile and they are a welcome addition to entrees, breads, salads, appetizers, and desserts. But that's only the tip of the iceberg, and the pear-ssibilities are pretty much endless when it comes to cooking with pears. Plus, all of our recipes are now shoppable, which means you can purchase the ingredients or add them to a shopping list right from the recipe page from the grocery retailer of your choice!
Pears, wine and cheese!
Pears take on a new character when combined with cheese and wine. The flavor, scent, and texture of each pear variety enhances both wine and cheese flavors, which is why this classic trio holds a place of honor on tables around the world.
Save them for later!
Pears can be preserved in several ways: refrigeration, canning, or dehydrating. Some pear varieties, such as Seckel and Forelle, are only in season for a limited window, so it's best to stock up and preserve them early in the season so you can enjoy later.
Pear pizza is the next big thing!
When you know, you know. Using pears as a pizza topping is not exactly new, but you would be surprised by how many people have not tried it. We believe that pears are truly the best fruit to top pizza with (not including tomatoes, of course). Join the movement to make pear pizza the superstar of the pizza world. The combination of sweet and savory is hard to beat, and we recommend trying a classic recipe such as pears, walnuts and Gorgonzola or getting crazy and coming up with your own creation!
Make sure to follow @USAPears on Facebook, Twitter, Instagram and Pinterest for all things pears!