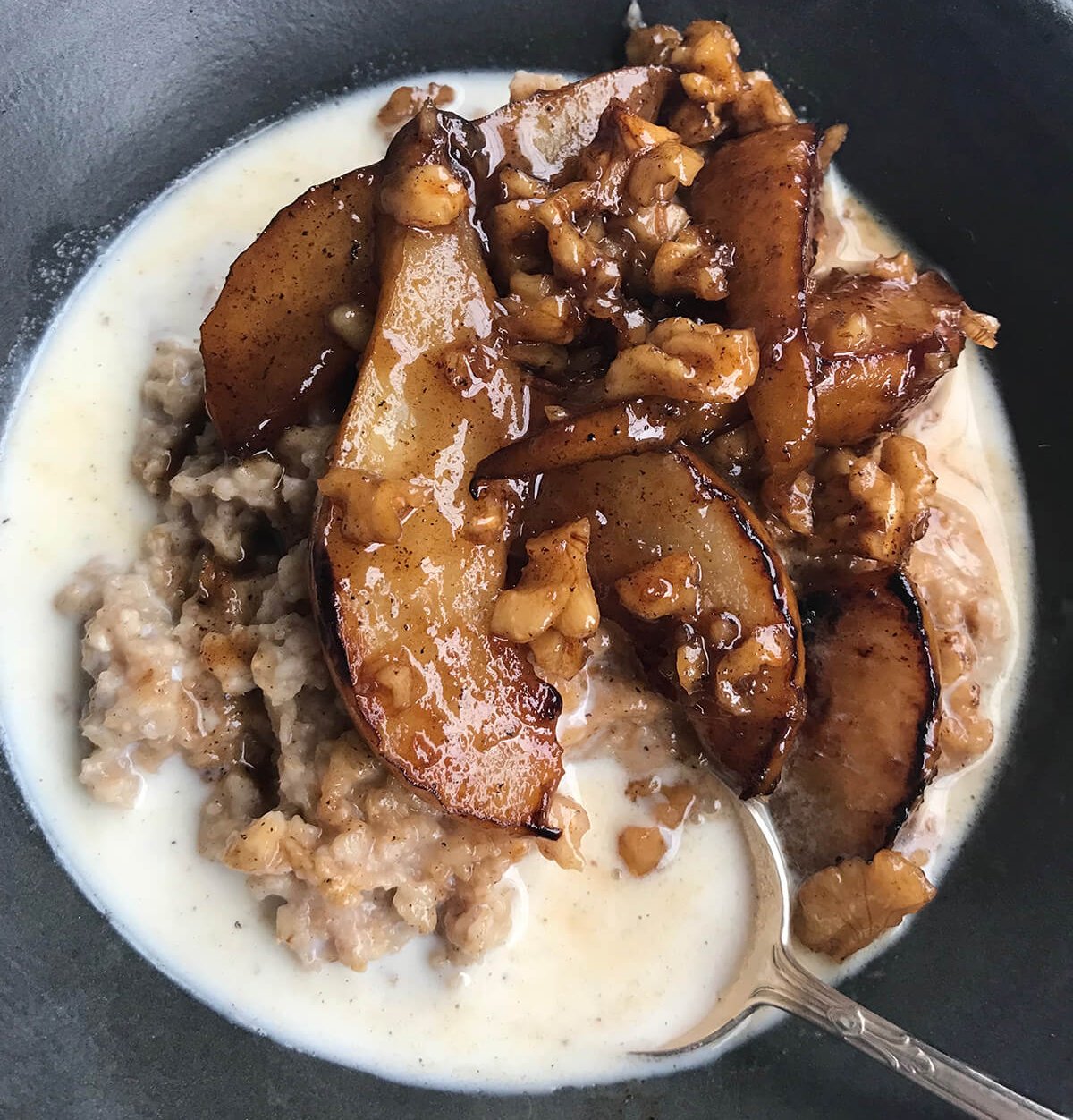 Oatmeal with Brown Butter Glazed Pears and Walnuts
This simple and flavorful breakfast is perfect for weekday mornings or weekend brunch.
INGREDIENTS
3 1/4 cups water
2 cups quick-cooking rolled oats
1/2 teaspoon cinnamon
1/2 teaspoon kosher salt (divided)
4 tablespoons butter
1 pound firm but ripe pears, such as Bosc or Concorde, halved, cored and cut into wedges
1/3 cup pear hard cider
1/2 cup coarsely chopped walnuts
2 tablespoons honey
Milk or cream, for serving
DIRECTIONS
In a medium saucepan, combine the water, oats, cinnamon, and 1/4 teaspoon of the salt and bring to a boil over medium-high heat. Reduce the heat and simmer, uncovered, for 1 to 5 minutes (depending on the consistency you like it), stirring occasionally. Remove the pan from the heat and cover to keep warm.
In a large skillet, melt the butter over medium heat and cook, swirling the skillet occasionally, until the butter solids are just brown and have a toasty aroma, 3 to 5 minutes. Pour off all but 1 teaspoon of the browned butter into a small bowl and set aside.
To the hot skillet, add the pears, with cut sides down, and increase the heat to medium-high. Cook until nicely browned on both of the cut sides, turning once, about 5 minutes.
Decrease the heat to medium and add the cider, reserved brown butter, walnuts, honey, and remaining 1/4 teaspoon of salt. Simmer until the sauce reduces to a glaze that coats the pears and walnuts, 3 to 4 minutes.
Spoon the oatmeal into shallow bowls and top with the pears, walnuts, and sauce. Drizzle with milk or cream, if desired.
NUTRITION
Serving Size: 1 Cup (348g)
Calories: 460
Carbohydrate: 57g
Dietary Fiber: 9g
Protein: 8g