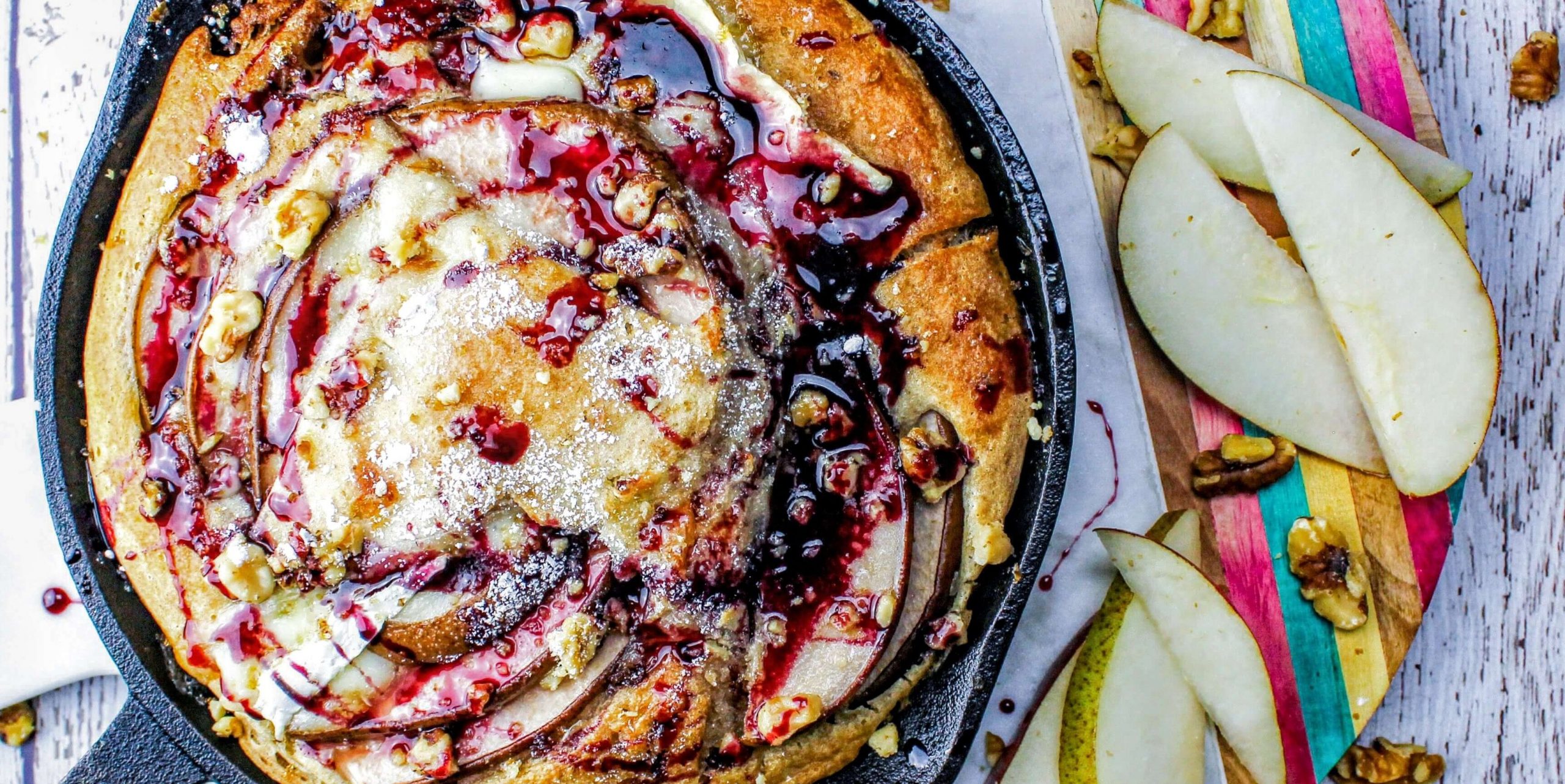 Dutch Baby with Pear, Brie, Walnuts and Mulled Wine Syrup
If you're wondering what you can do with that last glass of wine left in an open bottle, or those few bites of fruit and cheese, and an opened bag of nuts from hosting a party, then this is the perfect solution for you! Make a pancake. Yep, just one….big…skillet pancake! Or what is also called a Dutch baby. This is much easier than making individual pancakes, and you can throw in a ton of ingredients that bake right into the batter. Yummm! Pears are perfect for this because they are naturally sweet, pair so well with cheese, wine, and nuts. Plus, it will have a great texture after baking. This Dutch baby pancake is sweet, savory, nutty and fluffy!
INGREDIENTS
Batter
Take the easy way out: using a boxed pancake mix prepare 1 cup of mix (approximately 6 pancakes) as directed. Add 1 teaspoon vanilla extract and 1/2 teaspoon cinnamon.
If you do not have pancake mix and have these items you can make your own batter by whisking or blending together:
1/2 cup all-purpose flour
1/2 cup whole or 2% milk
2 large eggs
2 tablespoons granulated sugar
1 teaspoon vanilla extract
1/2 tsp cinnamon
1/2 teaspoon fine salt
Dutch Baby
1 large Red Anjou pear, sliced to 1/8 inch thickness
1/4 cup chopped walnuts
2-3 ounces brie, cut into small pieces
2 tbsp unsalted butter
2 tbsp brown sugar
Mulled Wine Syrup
1 cup red wine of your choice (Cabernet, Merlot work great)
1/2 cup granulated sugar (more or less depending on your desired sweetness)
1 cinnamon stick
1 star anise (or cloves)
1/4 tsp arrowroot powder or cornstarch
DIRECTIONS
After your batter comes together, add cubed brie cheese, and set aside.
Preheat oven to 425 degrees.
Heat an 8 or 9 inch cast iron skillet. When it's hot, place butter and brown sugar in the skillet.
Let the butter melt and come together with the sugar then add the walnuts. Caramelize walnuts for about 30 seconds on medium heat then add the pears. If your pan is overflowing with pears, save a few slices to place on the top of the batter.
Mix pears and nuts so everything is coated with brown sugar and butter mixture then turn off the heat.
Pour the batter into the skillet and carefully place skillet into the preheated oven. Bake for 20 minutes until pancake is cooked through and brown on top.
Top with more butter if desired, toasted walnuts, mulled wine syrup, and powdered sugar.
To make the wine syrup: simply place all of the ingredients into a small skillet, stir until combined, and simmer until the wine is infused with the spices and thickened to a syrup consistency. If it's too thick you can add a little more wine or add a bit more arrowroot powder if it is too thin.
NUTRITION
Serving Size: 1 Pancake (106g)
Calories: 250
Carbohydrate: 30g
Dietary Fiber: 1g
Protein: 5g
---
1 Comment » for Dutch Baby with Pear, Brie, Walnuts and Mulled Wine Syrup