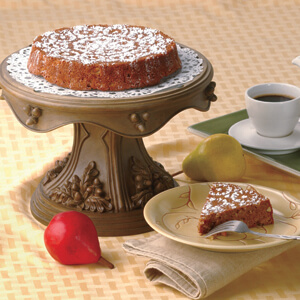 This pretty pear cake is also versatile—you can frost the bottom layer and stack the second for a bigger cake, or cut each layer into slices or squares. The layers can be wrapped in freezer paper or foil and frozen for up to 2 months. Thaw them at room temperature and dust with powdered sugar before serving.
INGREDIENTS
1 ¾ cups flour
1 ½ cups packed brown sugar
1 teaspoon ground cinnamon
½ teaspoon salt
½ teaspoon baking powder
½ teaspoon baking soda
¼ teaspoon ground nutmeg
¾ cup shortening
3 eggs
1 teaspoon vanilla
1 ½ cups USA Pears, finely chopped
½ cup chopped blanched almonds
Powdered sugar
Whipped cream or topping (optional)
DIRECTIONS
In a large mixing bowl, combine all ingredients except pears, almonds, powdered sugar and whipped cream. Beat 3 minutes at medium speed; scrape bowl as needed. Stir in pears and almonds. Pour into 2 greased and floured 8-inch round pans.
Bake at 350 degrees for 35–40 minutes or until wooden toothpick comes out clean. Cool in pan 10 minutes; turn onto wire rack. Cool completely. Place a lacy paper doily on each cake layer. Dust with powdered sugar; carefully remove doily. Serve cake with whipped cream, if desired.
yield: Makes 2 layers or 8 to 12 servings
NUTRITION
Serving Size: 1 Piece
Calories: 522 (44% Calories from Fat)
Carbohydrate: 67.2
Dietary Fiber: 2.6
Protein: 7.2
---
1 Comment » for Lacy Pear Coffee Cake