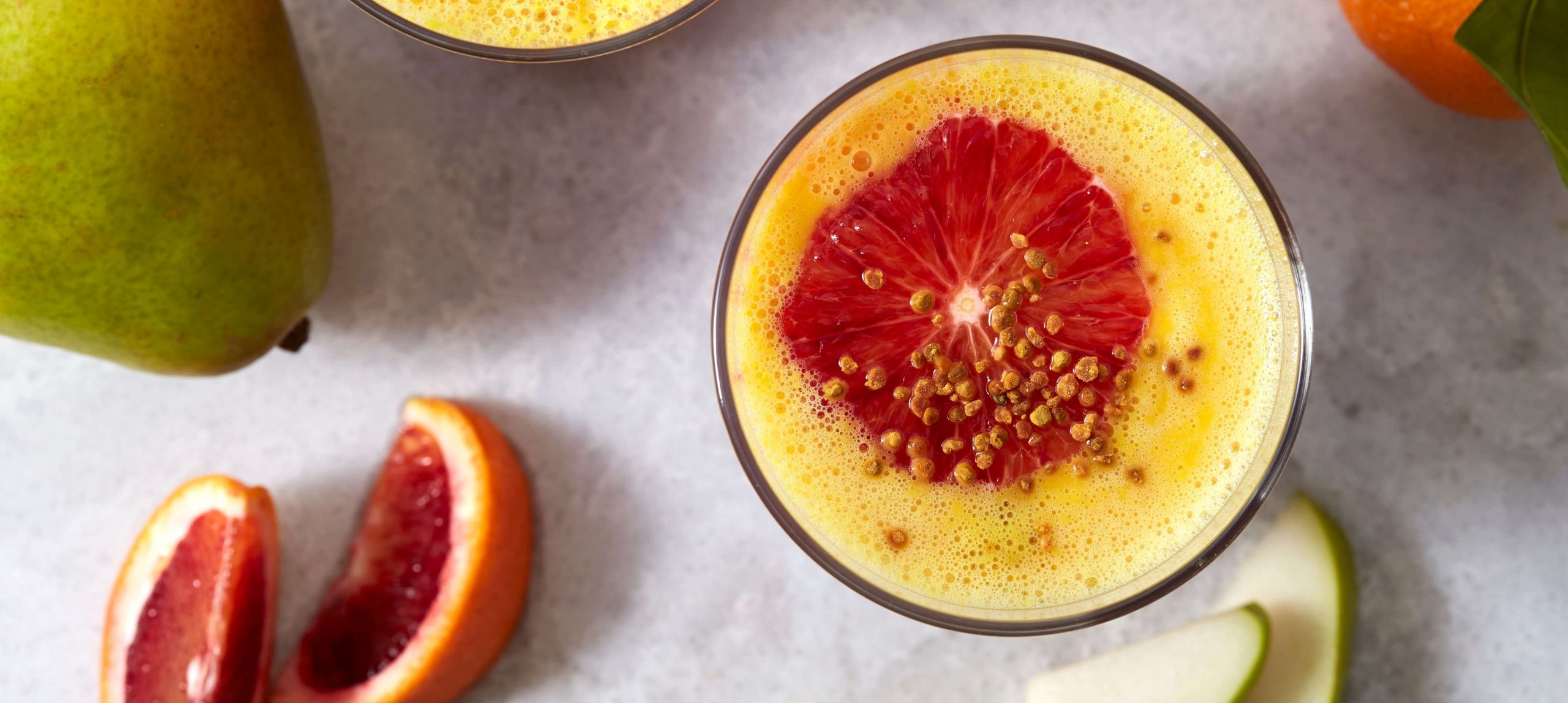 It can be difficult to get up on these dark, cold winter mornings, but the promise of this vibrant layered smoothie is worth jumping out of bed for. With a magenta layer and a yellow layer reminiscent of a glorious sunrise, pears are the base, and winter citrus, beets, and turmeric create bright colors and robust flavors. Smoothies are a great way to use pears that have been lingering in your fruit bowl a bit too long. Mushiness welcome! Their flavor will be full and juiciness just right. This recipe makes enough for four pint-size portions, and the colored smoothies can be kept in separate jars in the refrigerator for up to two days. Just be sure to shake well before pouring them together.
INGREDIENTS
Yellow Layer
1 very ripe or overripe USA Green Barlett, Anjou, or Comice Pear, cored and chopped
1/2 cup plain yogurt
Juice of 1 large lemon
1 large Cara Cara orange, peeled and segments separated
1/2 teaspoon turmeric powder
1 tablespoon honey
1/2 cup ice
Magenta Layer
1 raw beet, peeled and chopped
2 blood oranges, peeled and separated into segments
1 very ripe or slightly overripe USA Red Bartlett or Anjou Pear
Juice of 1 large lemon
1 (1-inch) piece of ginger, peeled and chopped
1 tablespoon honey
1/2 cup ice
DIRECTIONS
To make the yellow layer: Combine all of the ingredients in a blender, and process until smooth. Pour the smoothie into a jar or pitcher, and set aside.
To make the magenta layer: Combine all of the ingredients in the blender (no need to wash it first), and process until smooth.
Divide the magenta smoothie among large glasses. With a spoon resting on the surface of the magenta layer, slowly pour the yellow layer onto the spoon to begin filling the glass. (The spoon will allow the yellow layer to remain separate from the magenta layer.) Continue slowly pouring the yellow layer into each glass, dividing it evenly. Serve immediately.
NUTRITION
Serving Size: 11 oz
Calories: 160
Fat: 0g
Carbohydrate: 38g
Dietary Fiber: 6g
Protein: 5g
---
2 Comments » for Winter Sunrise Smoothie