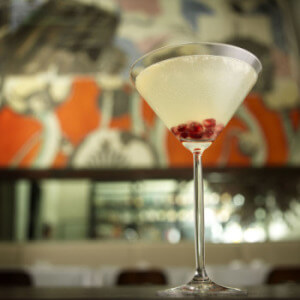 Fresh pear, green tea, and lavender flavors combine in this verdant cocktail that delights the senses. Garnish with pomegranate seeds to give this gorgeous green drink an added pop of color. Created by Kyle Billings of Portland, OR.
INGREDIENTS
Cocktail
⅓ USA Red Anjou pear, cored and coarsely chopped (do not peel)
1-¼ ounces pear vodka, such as Grey Goose La Poire or Absolut Pears
½ ounce pear liqueur, such as Clear Creek Pear Brandy or Aqua Perfecta Pear Eau de Vie
¾ ounce green tea-infused simple syrup (see recipe below)
1 ounce pear juice, such as Santa Cruz Organic Pear Nectar
Dry Soda brand Lavender soda
Ice
Pomegranate seeds, to garnish
Green Tea-infused Simple Syrup
1 cup granulated sugar
1 cup water
2 bags green tea
DIRECTIONS
For syrup: Bring sugar and water to boil in small pot. Remove from heat and add tea bags. Cover and let sit for 20 minutes. Strain and chill.
For cocktail: Put pear chunks in shaker and fill half full with ice. Muddle until pear is broken down. Add pear vodka, pear brandy, green tea syrup and pear juice and top with ice. Shake well, until very cold, and strain into chilled cocktail glass. Finish by filling glass with lavender soda and adding 5 or 6 pomegranate seeds.
This recipe is for adults aged 21 and over. Please drink responsibly.
NUTRITION
Serving Size: 5 oz
Calories: 200
Carbohydrate: 22g
Dietary Fiber: 1g
Protein: 0g
---
1 Comment » for Dragon Well