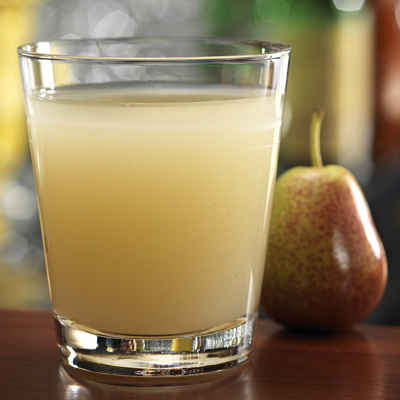 Warming spices like clove pair beautifully with the harvest-fresh flavor of pears. The drink's pale green hue comes from the bits of green skin left behind after muddling the pears, making it very fresh and fun. Developed by Brian O'Neill, Café Gray, New York City.
INGREDIENTS
1-1/2 oz pear vodka, such as Absolut Pears or Grey Goose La Poire
1/2 oz purée of fresh USA Pear such as Green Anjou or Comice
1/2 oz fresh-squeezed lemon juice
1 oz clove-infused simple syrup (see recipe below)
3 to 4 thin slices USA Green Anjou pear, skin on
Ice
DIRECTIONS
Mix:
In a shaker, muddle the pear slices before adding the remaining ingredients. Fill with ice and shake until cold and frothy. Strain into chilled cocktail glass. Garnish with a slice of Anjou or Comice pear.
Clove-Infused Simple Syrup
1 cup granulated sugar
1 cup water
6 whole cloves
Bring sugar and water to boil in small pot. Remove from heat, cover and let sit for 20 minutes. Strain and chill.
NUTRITION
Serving Size: 3 oz
Calories: 180
Carbohydrate: 21g
Dietary Fiber: 1g
Protein: 0g