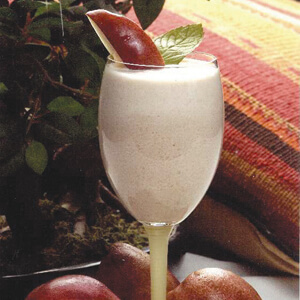 In a hurry? Substitute the freshly whipped cream with a prepared dessert topping!
INGREDIENTS
6 Anjou USA Pears, peeled and cored
2 tablespoons sugar
1 cup heavy cream
1 teaspoon almond extract
Pear slices to garnish
Mint leaves to garnish
DIRECTIONS
Cut pears into chunks, leaving some slices for garnish.
Blend pear chunks with sugar in a blender over medium speed. Beat heavy cream and almond extract in a bowl until peak forms.
Whisk pear mixture with the cream mixture.
Spoon into parfait glass. Garnish with pear slices and mint leaves.
NUTRITION
Serving Size: 12 oz
Calories: 440
Carbohydrate: 56g
Dietary Fiber: 10g
Protein: 3g