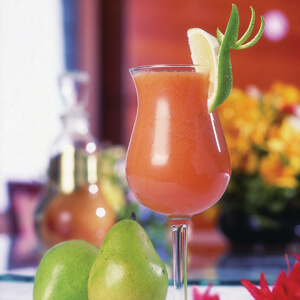 This sweet, refreshing drink is sure to please!
INGREDIENTS
½ cup cored, pared, and coarsely chopped fresh USA Pear
½ cup water
¼ cup coarsely chopped peach
⅔ ounce lemon juice
¼ ounce pomegranate juice
DIRECTIONS
In blender, combine all the ingredients and puree until smooth. Pour into chilled glass and serve.
NUTRITION
Serving Size: 11 oz
Calories: 70
Carbohydrate: 17g
Dietary Fiber: 3g
Protein: 1g