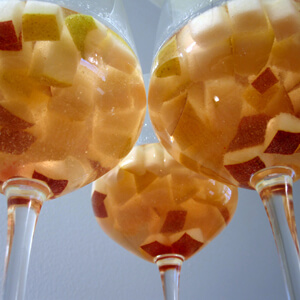 White Sangria with Pear and Cranberry
"The holidays are officially upon us! While I love to indulge in a little egg nog, mulled wine, or a hot buttered rum this time of year, sometimes I find myself wishing there were some lighter cocktail options available. I created this festive white sangria with just that issue in mind. My sangria is both beautiful and seasonally appropriate thanks to the addition of a simple cranberry syrup and colorful red and green pears. If you've never used pear brandy in a cocktail before, prepare to fall in love! It has an incredible concentrated pear flavor and is a great addition to many different cocktails. I recommend Clear Creek Distillery's version, which is made exclusively with Oregon grown pears. "This is the perfect drink to hand your guests as they arrive at your holiday gathering. Consider pairing this cocktail with an hors d'oeuvre tray of sliced red and green pears alongside your favorite cheeses. Serve the sangria in clear cocktail or wine glasses or a beautiful glass pitcher to show off its gorgeous pink color." – Hilary Finch Hutler, Tummyrumblr
INGREDIENTS
Cranberry Syrup
1 cup fresh or frozen cranberries
½ cup sugar
½ cup water
Sangria
1 bottle fruity white wine (I suggest a New Zealand Sauvignon Blanc or a Viognier)
2 tablespoons cranberry syrup
2 tablespoons Pear Brandy
1 ripe green USA Pear, such as Anjou, small dice
1 ripe red USA Pear, such as Red Bartlett, small dice
Sparkling water, to top off
DIRECTIONS
For the syrup: Combine the cranberries, sugar, and water in a small saucepan over medium heat. Cover and bring to a simmer, stirring to dissolve sugar. Cook until the cranberries are softened, about 5 minutes. Mash all of the cranberries with the back of a fork and pass the mixture through a strainer and reserve the syrup, pressing on the berries to extract all of the liquid. Discard the cranberries and set the syrup aside for use in the sangria.
For the sangria: In a medium sized pitcher or jar, combine the bottle of wine, two tablespoons of the syrup, and the pear brandy. Stir the mixture together until it becomes a uniform, pale pink hue. Taste a spoonful of the sangria to make sure the flavor of the cranberries and the pear brandy come through. If you don't detect these flavors (or prefer them to be more bold), add more syrup or brandy. At this point the sangria can be covered and stored for up to three days in the refrigerator.
When you are ready to serve the sangria, add the diced pears and stir gently. Ladle or pour the sangria into large wine glasses, being sure to include some fresh pear in each glass. Top each glass of sangria with a generous splash of sparkling water and serve.
NUTRITION
Serving Size: 8.5 oz
Calories: 300
Carbohydrate: 29g
Dietary Fiber: 3g
Protein: 1g