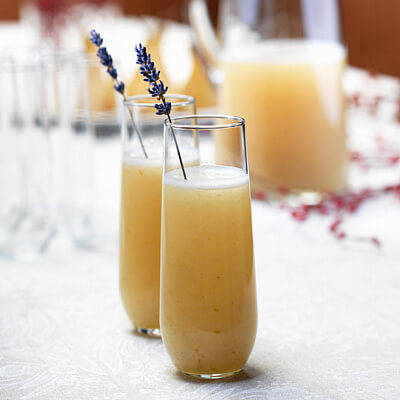 Pear Lavender-Mint Spritz
Sparkling, cool, and refreshing, this tasty beverage is a delightful option for entertaining.
INGREDIENTS
Anjou Pear Puree
2 pounds ripe Green Anjou USA Pears, cored, unpeeled, cut in ¾-inch chunks (about 2 quarts)
1 ½ cups water
¼ cup granulated sugar
2 tablespoons lemon juice
Beverage Mix
2 filterbags Tazo Refresh Herbal Infusion Mint Tea with Tarragon
3 cups boiling water
3 cups Lavender DRY Soda (by DRY Soda Co.)
3 cups Anjou Pear Puree
Fresh lavender sprig, for garnish
DIRECTIONS
For puree: Combine pears, water, sugar, and lemon juice in a large saucepan. Bring to a boil; cover and simmer over medium heat 15 minutes or until pears are softened and almost all liquid is evaporated. Cool.
Process or blend pears until smooth. Refrigerate puree until cold. (Can be refrigerated up to 3 days.)
For beverage mix: Steep filterbags in boiling water for 5 minutes. Remove filterbags and refrigerate tea until cold.
Combine tea, soda, and pear puree in a large pitcher. Stir to reduce some of the carbonation.
Pour 1-2 cups beverage mix over 2-3 ice cubes in a cocktail shaker. Shake gently, about 15 seconds, until well chilled. Strain into glasses. Garnish with a lavender sprig and serve immediately.
NUTRITION
Serving Size: 8 oz
Calories: 140
Carbohydrate: 33g
Dietary Fiber: 1g
Protein: 0g